How do you know if someone is posting a fake review on your Amazon product to drop your sales? Being an Amazon seller, you must be familiar with customers reading product reviews before purchasing anything from Amazon. The reviews are so influential, and some smart entrepreneurs post fake positive reviews to improve their sales. At the same time, some act smartly and post negative reviews to drop the sales of competitors.
Whatever the reason is, only customers suffer from these fake ratings, no matter whether these are in positive or negative ways. I understand that detecting forged reviews is challenging. Luckily, some Amazon fake review checkers are available that help detects false and genuine reviews.
I've researched a few of the best fake review checkers and selected the five best ones which you can use to detect fake reviews. Let's dig into the post to get the details.
How to Find if The Amazon Reviews Published Are Legit?
As a seller, you know well that customer immediately leaves if they see negative reviews posted under your product. This is why many FBA sellers pay to get quality reviews to improve their sales, while at the same time, some pay to drop the sales of others.
Being a customer, how can you find out if the Amazon reviews posted are legit? There are three ways to spot false reviews posted on Amazon.
Analyze the content of the review
Compare the reviews with your competition
Use advanced Amazon review checker tools.
Of course, you cannot analyze the content because a lot of customers post professionally. So, the easiest way to detect whether the reviews are legit or not is the Amazon review checker tool.
What Are Amazon Review Checkers?
Amazon review checker is a software specially created to help Amazon sellers and buyers detect real reviews from fake ones. The tool is helpful to find out the genuine rating and cleanse the false reviews, which in turn helps you to enhance the shopping experience.
Detecting the reviews is a challenging task that is almost impossible to do manually. The amazon review checker is helpful to do this task within a couple of minutes and provides you with a detailed report about the published reviews.
The review check cross-examines all the key aspects of the amazon review to detect whether these reviews are posted by legitimate buyers or just by the suspicious customer.
Why Detecting Fake Reviews Are Important?
Reviews play a crucial role when you are selling your products on Amazon. A positive review can make your sales, whereas, at the same time, a negative review can break your sales too. This is why it is of utmost importance to use the Amazon review checker to find false ratings and reviews.
Here are a few more reasons which show you why you need to invest in an Amazon review detector.
1. Reviews Offer Complete Market Analysis
To sell products successfully on Amazon, you need to do an extensive market analysis. As an Amazon seller, you need to evaluate the product reviews promptly to determine what your customers are looking for.
With this Amazon review check, you will be able to figure out the top-rated product, and then you can plan your strategy accordingly. In the meantime, the tool also helps to pinpoint false reviews.
2. Customer Rely on Reviews
Customers are smarter these days; before purchasing anything online, they read the reviews. But at the same time, sellers are extra smart, and they publish paid reviews to show their product worth and post negative reviews on competitors' products to break their sales.
The fact is, customers still love to read reviews before they buy anything. So, it is essential to use the Amazon fake review checker to detect if the reviews posted are fake or genuine. In turn, the sellers help improve their product strategy by analyzing the reviews.
3. Reviews Detection Can Help Improve Ranking
The Amazon FBA sellers who sell an extensive range of products on Amazon have the potential to make sales with positive reviews. Therefore, maintaining good reviews can help boost the ranking, which helps enhance brand visibility.
The customer-generated content recently became popular on Amazon. The reason is customers prefer to have the opinion of other customers who bought the product. Positive feedback can improve conversion rates, but negative feedback can impact your sales.
Some notorious competitors also post reviews from fake accounts to break sales. This is why it becomes important to use the Amazon fake review checker to detect the reviews which impact your sales.
This review checker software acts as a marketing tool that helps improve your conversion rates by removing fake reviews.
List Of Top 5 Amazon Review Checkers to Try in 2023
As we know, reviews play a vital role in business enhancement, but negative reviews can harm your product ranking and decrease your sales. Therefore, by tracking fake reviews, you will be able to boost your conversion rates. 
So, here I'll provide you with the five best Amazon review checkers you can use for review detection. Let's dive in.
1. ReviewMeta

ReviewMeta is the best Amazon review checker tool that allows you to detect false reviews. The design of this tool is simple and easily allows you to see fake reviews and inflated ratings. The product reviews are graded on three scales. 
Plan: Free
Aside from this, the tool is also helpful in detecting the reviews that are doubtful or least trusted. To detect fake reviews, you must paste the URL of the Amazon product you want to review on the search bar. As soon as the search ends, doubtful and unauthentic reviews will be eliminated.
Moreover, the aggregated rating of Amazon products will be changed. Though it reflects the real ratings, it is important to remove the false reviews.
This will also eliminate the incentivized reviews. Each of the reviews will be passed from the twelve analysis tests to provide you with appropriate results.
Advantage:
Helpful in eliminating false reviews 
Twelve analysis test is helpful to get accurate results 
Depp analysis to breakdown negative reviews 
Easy-to-understand format 
Disadvantage:
2. Fakespot
Fakespot is one of the useful Amazon review detector tools which helps to analyze false reviews easily. The bonus point here is that you can use it as a Chrome extension to easily detect the reviews of any sites such as Amazon, Walmart, and eBay.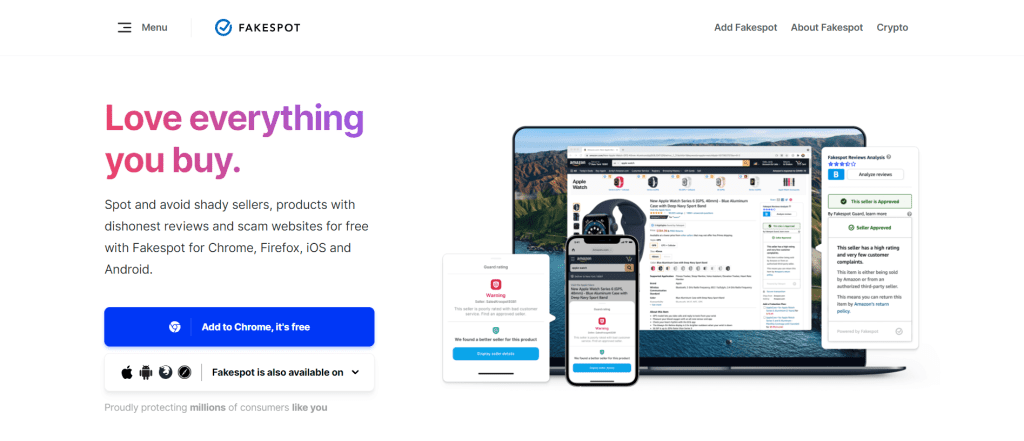 If you want to detect a false review, you need to copy an Amazon product URL and paste it into the search bar of the Fakespot tool. In a few minutes, it will filter out all the fake reviews.
Plan: Free
Moreover, it is also helpful to detect shady sellers trying to spoil your sales by sharing dishonest reviews. The tool will provide you with a detailed report in which grades are given to the reviews from A to F.
The grades are based on the authenticity of the reviews. After completing the review analysis, the adjusted review rating will be given after excluding all the suspicious ratings.
Advantage:
Detect false and unnatural reviews
The grading system is excellent for revealing fake reviews
It can be used as a Chrome extension
Help to remove dishonest sellers
Disadvantage:
Unable to detect fake reviews from 5-star rating products
3. The Review Index
The Review Index is the best Amazon review checker tool if you want to detect who posts suspicious reviews on your Amazon product. It is easy to use, and like another review checker, you need to enter the Amazon product URL. This review checker tool will do the complete scanning to provide you with accurate results.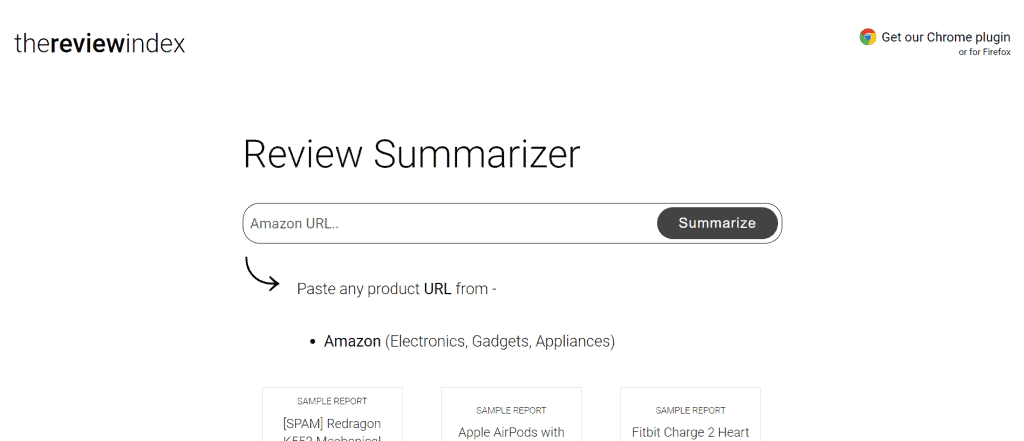 After analysis, you get a detailed report on which it scores different reviews out of 10. It features a browser extension that allows you to use the tool easily.
Plan: Free
Moreover, it also provides a pass and fails icon on the review list so that you easily find false results. The tool simply breaks all the reviews into different forms.
Old reviews
Total reviews
Verified and recent reviews
Unverified reviews
It is also helpful in determining the ratings of the product and gives you a brief review.
Advantage:
It helps to analyze the verified purchases
One tap rating is quite helpful
The quick breakdown into different sections
Available as the Chrome extension
Disadvantage:
The detection process is quite slower
4. AppBot:
AppBot is an excellent review checker for those who used to shop through Amazon mobile app. This tool helps to detect product rating and reviews right from the mobile app. AppBot is used by many eCommerce website users and large companies such as Microsoft, Twitter, etc.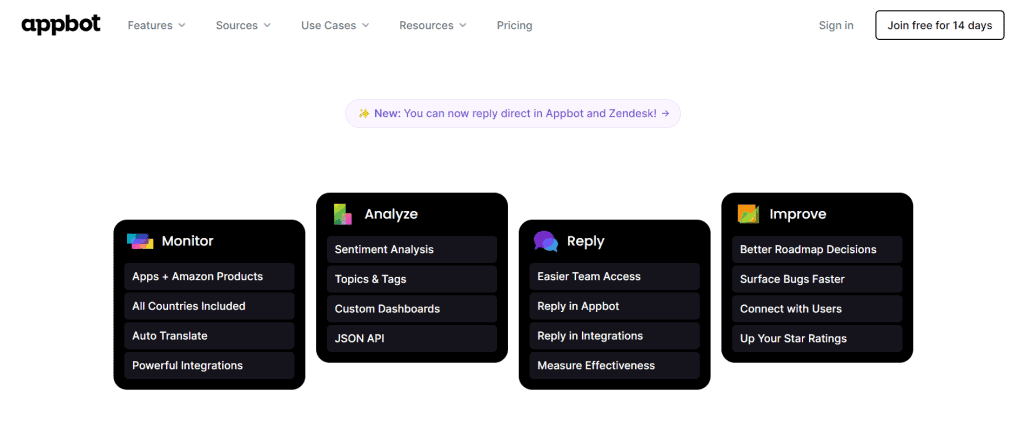 The app was primarily designed to check the reviews of the Google Play Stores and App Store, but now it is used for checking the false rating and reviews on Amazon.
This app only scans the reviews without affecting the star rating to determine the false rating or genuine reviews.
Plan: Small Plan is $69/month, the medium plan is $99/month, the large plan is $199/month, and the Entrepreneur plan at $449/month 
Here, the reviews will be analyzed, and fake reviews will be eliminated. The biggest advantage here is it will act as third-party integration.
This means it can easily integrate with the CRM system to provide you with consistent results in real time. However, you need to pay a monthly subscription of $69/month and even more to access this tool. 
Advantage:
Easy to install and use
Quick CRM integration is excellent for easy detection
Detect review ratings and false reviews
It can be used as a mobile app
Disadvantage:
Enterprise plan is expensive
5. AMZ Finder
AMZ Finder is solely to check fake reviews on Amazon. The tool offers features such as review management, which help find unrealistic reviews and automatically remove negative ones. This AMZ Finder compares all the reviews and removes negative reviews, paid reviews, and others.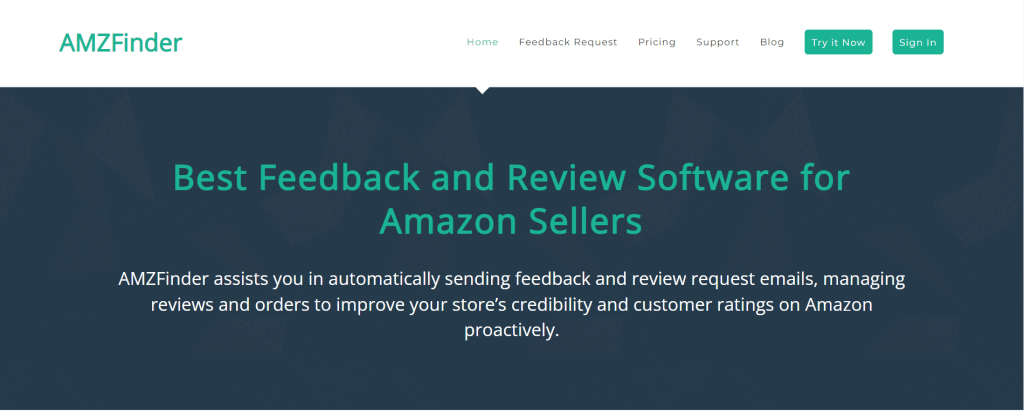 It has a clear interface, so anyone can easily use the tool to collect information about fake reviews. Moreover, the tool creates an email report regularly in which you get a detailed report of negative reviews.
Plan: Starter Plan at $29.99/month, Pro Plan at $39.99/month, and enterprise plan at $54.99/month
The best thing about the tool is it can handle negative reviews on its own. This means you don't need to remove and handle the review reporting by yourself.
Even if any customer posts a negative review on your product post, it will immediately alter the review and detect whether it is false or genuine.
Advantage:
Automatic detection of reviews reduces manual work
Helpful to alter reviews immediately
Clean interface
Regular reporting through email
Disadvantage:
Regular email reporting may annoy you
6. Review Monitoring:
This Amazon review checker divides the customer's review into three parts vine, verified, and unverified. The verified reviews are the most legit reviews, whereas the vine reviews are fake. Moreover, the unverified reviews contain reviews that may or not be accurate. It also helps you in finding the best features of the product you are looking for to make your choice easier. 
Plan: Its pricing details are not available, but you can use them by requesting the demo.
Advantage:
Advanced Analytics
Improve product
Fast and Scalable
Monitor Competitors
Fanatical Support
Big Picture
Disadvantage:
Customer support needs to improve.
Related Read:
Conclusion:
Negative reviews and paid reviews can affect Amazon sales. Competition on Amazon as sellers is getting tough, and most sellers are trying to get maximum attention by putting false information. Eventually, the customers are at a loss as they mostly rely on reviews.
So, it is crucial to use these tools to detect false reviews and eliminate all false ratings. I hope now you get an idea about which tool is best for detecting false reviews. But if you want the best, I would recommend having AMZ Finder as it gives you detailed analysis and automatically manages the reviews.
Frequently Asked Questions:
How can I check by myself whether the Amazon review is legit or not?
Product review that is posted under the product can be fake. If you want to detect whether the reviews are legit, just read them thoroughly. You can compare the review with the description to decide the legality of the review.
Look for the badge of "verified purchase" in the review. This badge shows that genuine buyers purchased the product. Moreover, you can also use the review checker to track if the review is legit.

Is ReviewMeta Safe to Use?
Yes, ReviewMeta is safe and legit to use. It gives you suggestions about solid product ratings. It is helpful to detect false ratings and negative reviews, which can impact your sales.
Does Amazon Detect the False Reviews Automatically?
No, Amazon doesn't detect false reviews and ratings. This is why you need to use the Amazon review checker to detect false reviews. However, Amazon does have strong rules against forgeries selling. If any seller is found selling fake name brands, harsh penalties will be applied to the seller, and the account will be terminated.
Suggest some of the best Amazon review checkers.
ReviewMeta, The Review Index and Fakespot, and AMZ Finder are some of the best Amazon review checkers that help you detect fake reviews.