Dropshipping is one of the trending order fulfillment methods these days that seems to be working well for small entrepreneurs. In this seller agreement, the merchant doesn't need to stock up with the inventory, instead, it is purchased from manufacturers to complete the orders.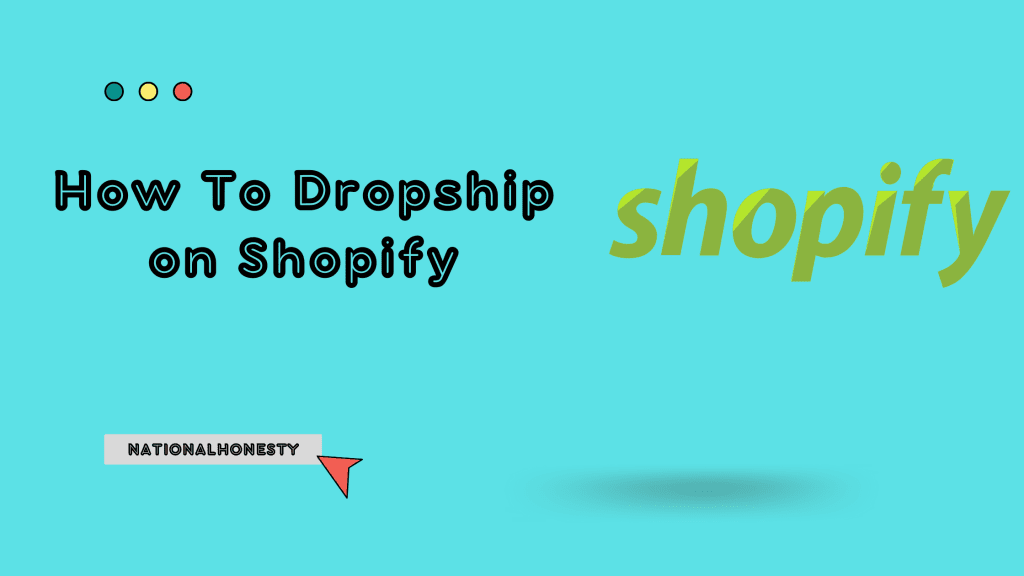 Dropshipping is a perfect way for beginners who want to establish themselves in the e-commerce business but don't have enough resources such as a warehouse, massive fulfillment facility, etc. Here, they work as middle-man sellers who purchase the inventory from a third-party seller and sell it. They don't need to stock or own the inventory.
If you are looking to start a dropshipping business, there is no better place to start than Shopify. But how does that work? What does it take to start? In this article, I will address each of your concerns regarding dropshipping on Shopify. Let's dive in.
Shopify Dropshipping: An Overview
Shopify is a Canadian e-commerce company that allows multiple businesses to create and manage their online stores on its platform. As of 2023, over 1.5 million websites operate their business on the platform.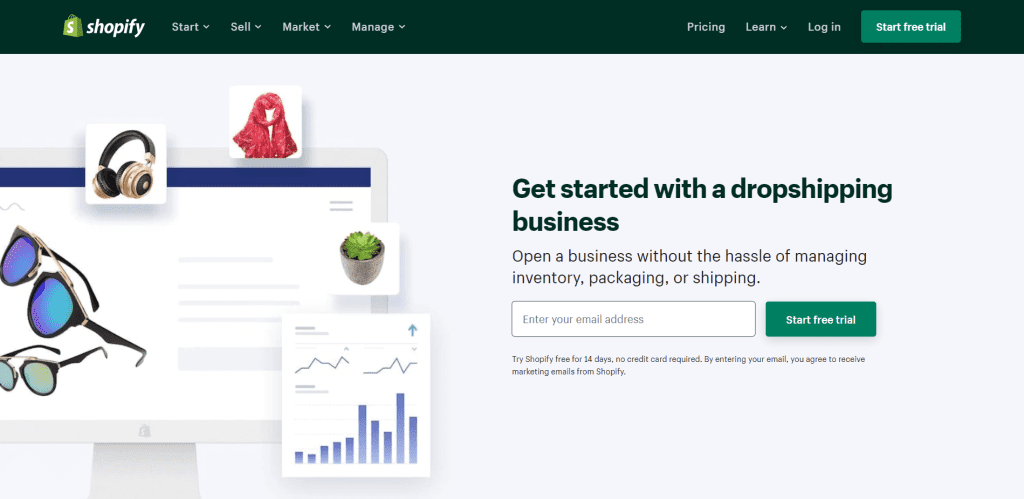 When it comes to the dropshipping model, Shopify has all the necessary tools and facilities for that. It features an easy-to-understand user interface where you can create your e-store, generate organic traffic and fulfill the orders as they come.
Not only that, it allows you to manage your marketing and advertising, monitor your business activities, manage payments, and a lot more. Overall, if you are thinking about pursuing an e-commerce business, Shopify dropshipping is the ideal scenario for you.
Here are some key features of the Shopify dropshipping model:
It allows you to create and set up your eCommerce webpage

You can use Shopify to advertise your products to attract the maximum number of buyers online.

The user-friendly interface allows you to design your dropshipping website with a few simple steps.

Allows you to create market strategies so you never miss an order.

Tutorials and guides for beginners.

One must think- Is it legal to dropship on Shopify? Well, Shopify is one of the most popular e-commerce platforms in the world. It is a 100% genuine platform that is helping merchants from more than 150 countries to advertise and sell their products online.
Now, Dropshipping is a legal business model which is accepted on several famous e-commerce platforms. However, there are certain formalities and legal requirements which you must go through before you set up a dropshipping store.
A business license – Although selling goods online doesn't require you to have a business license, it's still a good practice to acquire one which adds to your reliability and status in the eyes of your suppliers and customers
Legitimacy Documents – Apart from a business license that already proves you are running a legitimate business, you may need to acquire additional legitimacy documents. It's a good way to earn the trust of your suppliers and buyers.

Tax-related paperwork – Tax-related activities are different for every country/region. Make sure you fulfill all the requirements to be considered a genuine taxpayer.
Legal terms & conditions – It's very important to have legal agreements associated with your business in case of any mishappenings. It's a good way to let the buyers know about your business and its conditions. Also, since you will be dealing with customers' personal information, you will be required to have a privacy policy to protect their data.
Payment and return/refund policies – The return/refund process is an integral part of any e-commerce business. As a seller, you must specify your refund policies to let your customers know what they will expect in case such a situation arises.
Dropship on Shopify: A detailed Guide
Let's check out the key steps you need to take in order to start your dropshipping venture on Shopify.
Find A Profitable Niche and Product Supplier:
Just like any other online business, you need a product to sell. A product that is in demand fits your budget yet is promising enough to make some profit.
Now, as a beginner, I advise you to go with the low-cost items which are able to generate just enough profit to help your store survive the initial phase. Don't be greedy with choosing the product niche.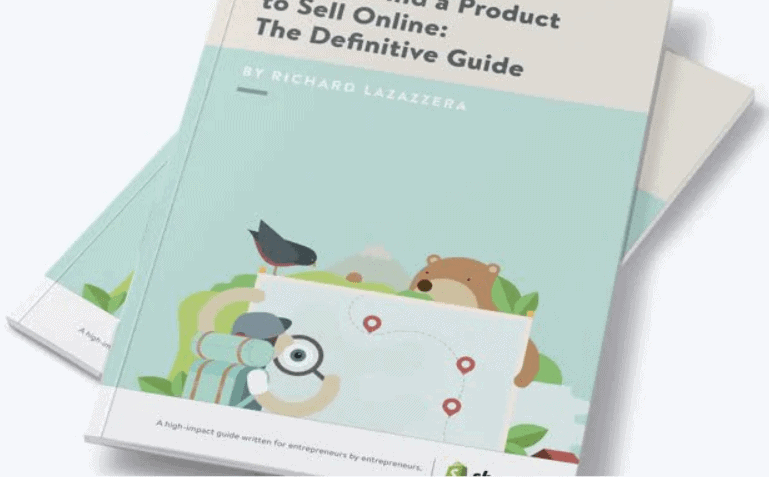 You should avoid categories like electronics items, books, home appliances, etc in the beginning since you can't compete with the big stores. On the other hand, art & craft, pet supplies, and toys do slightly better for beginners as they are low-cost products yet almost always in trend.
You can use Google trends to find various trends and analyses while searching for the product to ensure you are aware of what customers are looking for the most. Google keyword planner is another great tool that will help you find the trending keywords related to the product you are planning to sell.
Once you are done with the product research, look for reliable suppliers. You can check out Aliexpress for the suppliers. It's one of the biggest online platforms where you will be able to find sellers from all around the world.
Another great way to find the suppliers is by going through the supplier directory on the dropshipping official page. Here you will find every information you need regarding suppliers, their policies, and so on. Make sure you confirm the minimum order quantity, shipping time, and drop fee with the supplier.
Setting Up a Shopify Store: Design, Edit Preferences, and Payments
Once you have the product and supplier, it's time to make an entry on Shopify.
Registering Your Store:
You need a unique name for your store before you register yourself on the platform.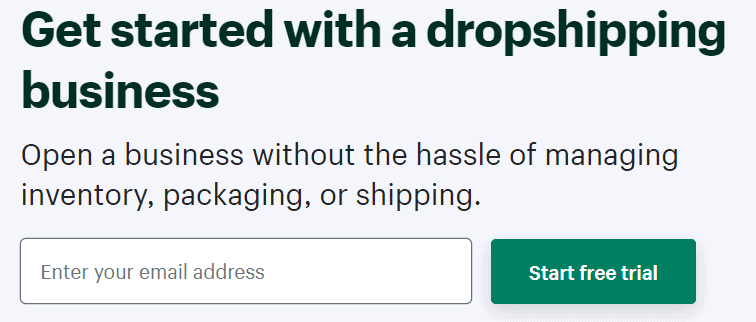 Simply complete the registration form, provide the personal details needed, and confirm your email ID. Try to have a catchy yet effective store name for your dropshipping store.
Adding the Products:
After completing the registration process, you are redirected to the dashboard page where you can add a domain name, add products, edit preferences, and further design your store.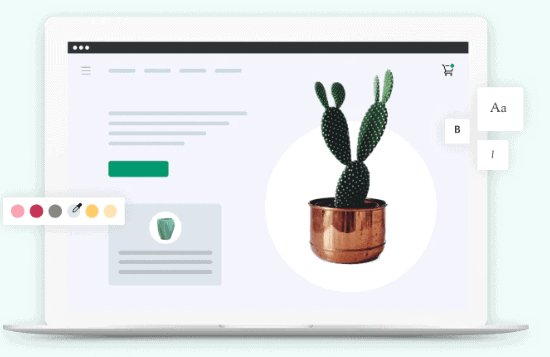 Add the products you want to sell initially. Use the correct tags and category to list your product in the right segment. Make sure you have a relevant product title. Remember there are millions of merchants on the platform and a buyer will not spend much time on your listing if it's confusing, since he has a lot more options to choose from.
Write detailed and authentic product descriptions. Use the keywords suggested by the Google keyword planner. Also, arrange your products in groups so that they are easily discoverable by the consumers.
Setting Up Payment Options:
When it comes to payment settings, Shopify and Paypal are the default payment options available. Once you finish setting up the payment preferences, Shopify will transfer the amount to your bank account every time you complete a sale.
However, you can edit the preferences if you want to provide your customers with more payment options such as different third-party providers or a payment gateway.
Adding A Domain Name:
By default, Shopify assigns a unique URL to your store on its platform which will work without any issue. But to give it a personal touch and to make it look more professional, you can use a domain name of your choice.

You can transfer the domain name from a third party to Shopify or simply purchase a domain name from Shopify itself. The starting price for a domain name is $11/year.
Advertising Your Products:
Once you have your store up and running, you should immediately start advertising your products. Don't wait for yourself to be found automatically by the customers. The E-commerce business is full of fierce competition and you need to take every measure to mark your presence.
For the beginner, the best way to start advertising is on Facebook, Tiktok, or Instagram. You can make a separate page for your store on Facebook and Instagram, connect with each other and start posting about your products.
If your budget allows, you can invest some money in Facebook ads and Google ads which will attract more organic traffic in a short period.
Fulfill/Cancel A Dropship Order:
On the dashboard of your dropshipping page, you will notice the order section. From here, you can process and cancel an order. Each time you receive an order/cancellation request, you will get notified.
Go to the Orders section and click on the order which needs to be fulfilled. If you are doing it using Aliexpress, Oberlo will take care of the fulfillment. Otherwise, you can do it manually. Simply click on Fulfil Item and you are good to go.
To cancel the order, again, go to the Order section and from the order's list. Click on the order which you want to cancel. In the Fulfilment section, click on the 3 dots icon and pick Cancel fulfillment.
Dropshipping Applications:
Before you start selling on Shopify, you should check out some of the applications which will help you operate and scale your business efficiently. You can directly download these apps/extensions from the Shopify app store and add them to your page.
Oberlo is a Shopify-owned app that has been specifically designed for dropshipping.

You can use it to import and list products directly from AliExpress. It also updates the product description and price according to the source. You can also edit product details, images, descriptions, and so on using Its advanced product editing feature.
Moreover, it can fulfill all the orders on your behalf so you can focus more on advertising and managing your business. Additionally, you can monitor your order fulfilments through Oberlo shipment tracking.
SEO processes are very important for any e-commerce business as they help you increase your product rank and visibility on the internet.

Plugin SEO will analyze your store, product listing, and descriptions to find out the possible SEO-related issues on your page and will provide suggestions to rectify them.
A product video is a good way to give the customers more insight into the product details and its functions.

Promo is a simple and easy-to-use app where you can create attractive product video advertisements which you can showcase in your store. You can also use these videos on your social media ads.

It's a TikTok app extension that helps you create TikTok adverts and publish them on the TikTok app. From the TikTok extension, you can easily manage your ad campaign on Tiktok.
Dropshipping: Tips For beginners
For beginners, it might get tricky to get hold of everything in the beginning. But with some patience and dedication, you can establish your business on Shopify. However, there are certain practices you must follow in order to succeed. Let's have a look
Your webpage is the first interaction you have with your potential customers. Try to make it as simple as you can, especially in the beginning. As I mentioned above, the buyer has unlimited options on Shopify so you can't afford to make a mistake.
Keep your page design simple and elegant. Try not to create a complex main menu. Think like a customer and make sure you have sufficient details on pages such as contact, shipping details, return/refund, and so on.
Also, make your page easy to navigate. Give the freedom to your customers to browse through your page as they want. Place more action buttons on your landing page. A strategically placed Buy Now button may strike the buyer's mind instantly and with one click he is on the checkout page.
Attractive Product Description:
The next step is writing a good product description. Yes, the customer will be attracted by a catchy title, however, it's the product description that will make him buy or skip the product.
Avoid copying product descriptions from other online sources or e-commerce websites such as AliExpress. Analyze your product and write the description yourself.
If you can afford it, hire a professional writer to write the product descriptions for you. Use some writing apps such as Grammarly to avoid mistakes and improve the quality of your descriptions.
Look At The Bigger Picture:
Dropshipping is a popular fulfillment method where you don't need to store the inventory. Now, on one hand, it's a perfect place for small entrepreneurs to start on a low budget, it can turn into a long-term profitable business.
Don't get disappointed with initial setbacks. In an online business, chances are more that you will not get satisfactory results in the beginning and this is where most sellers give up.
All you need is patience and a plan. Read about dropshipping and even more about e-commerce. Go through some online study material, and video tutorials. Learn the practices which will help you stay in the business for a long time. The first step is to survive, meaning keeping the business alive without making any financial loss. Then gradually start implementing your strategies to expand your footprint.
Dropshipping: Expenses and Profit
Now, the question is – How much money do you need to start dropshipping on Shopify?
To create and launch your dropshipping store you don't need any money. Shopify comes with a 14-day free trial period but if you start selling your items, you will need a premium membership including the following:

Basic Shopify Subscription – $29/month
Domain Name fee – $14/year
Oberlo basic Plan – $29.9/month
Compared to other platforms and their fulfillment methods, Shopify dropshipping is rather affordable and easy to start with. Now, how much money you can make out of it, depends entirely on your product selection, planning, and strategies.
It all starts with finding the right product and a supplier where you can get the item at a considerably lower price which will give you some margin. According to a report, a successful drop shipper can earn from $80,000 to $100,000.
Remember you are competing against more than a million other sellers and you need to have a winning business model, a clear strategy, and planned implementation in order to successfully establish your brand on Shopify. Once you survive the initial phase, the money will start to come in. Just be patient.
Related Read:
Epilogue: Is Dropshipping On Shopify Worth It?
This is all for Shopify Dropshipping. As you can see, it's extremely easy to create and launch your dropshipping store on Shopify. However, it requires some effort to generate and maintain the traffic. Any online business venture requires some time to get settled but it's not impossible if you have the right business approach and proper planning.
Go to Dropshipping official website and find every bit of information you can on dropshipping.
Read E-commerce business articles, tips and tricks guides, and watch video tutorials from some famous Shopify merchants to get a better idea of the platform.