Helium 10 is a great tool for searching for products and keeping an eye on competitors. At the same time, Viral Launch has a better accuracy rate and lets you enjoy PPC campaign tools to improve sales. 
Sound confusing to choose between Helium 10 and Viral Launch? Stay here; we've done a head-to-head comparison between both these tools so that you can easily find the right FBA seller tool to start your business. 
Let's focus on the details and make the right decision. 
Helium 10 At A Glance 
Helium 10 is a great tool for meeting sales targets and controlling your Amazon FBA business. This application has a product finder, sales analysis, keyword tracker, opportunity score, hijack alarm, list optimization, keyword magnet, price tracking, and many more features.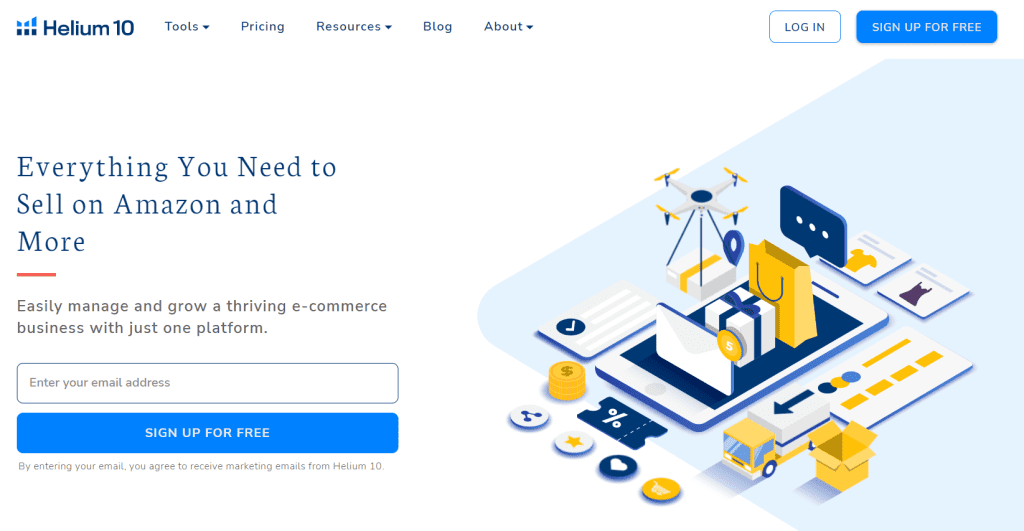 Beginners and experienced sellers will benefit from this tool. The Helium 10 has sophisticated features such as Hijack alert, sales optimizer tools, and inventory protection, which is the nicest part about owning it. 
These tools can be beneficial to secure sensitive data and manage a successful business. It also gives you free access to a limited tool version, so you can check it out.
Viral Launch At A Glance 
A Viral Launch is a versatile tool that helps achieve sales goals and earn more revenues. The tool comes with advanced features such as a product finder, keyword tracking, sales analysis, PPC campaign tool, and many more.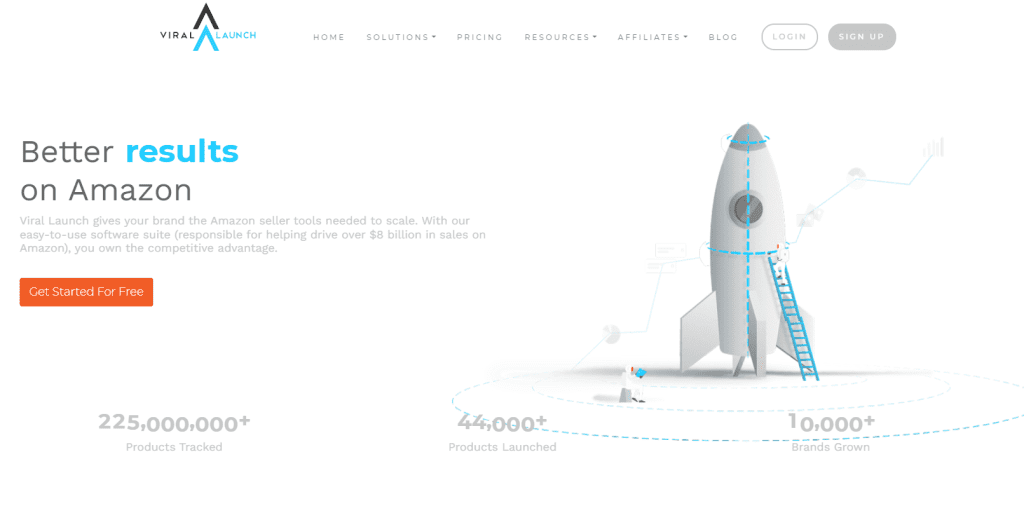 It has an easy interface and is good for beginner sellers. Viral Launches help find the relevant products that help generate maximum sales. Apart from this, the pricing plans are simple and offer 14 days free trial, so you can easily access the premium plans and try whether the tool is worth the investment or not. 
Helium 10 vs. Viral Launch: Which Offer Better Data Accuracy Rate? 
The data accuracy rate is crucial that FBA sellers consider the most while finding the right tool for FBA sellers. Therefore, the tool with a maximum accuracy rate is always excellent and considered the best tool. After conducting the research, we concluded that the Viral Launch's accuracy rate is better than the Helium 10.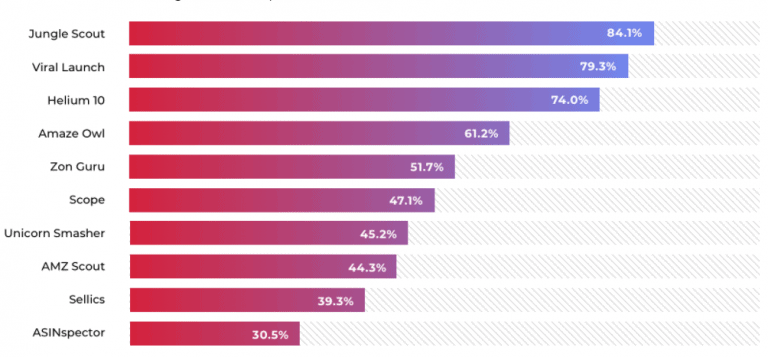 Helium 10 has only a 74% accuracy rate compared to the Viral Launch offer of 79%. This means the data fetched out by the Viral Launch is excellent, and sellers can easily rely on the data. However, the data offered by the Helium 10 is no less than the Viral launch. 
There is only a 5% difference between the accuracy rate. Sometimes, the data of the Helium 10 is confusing, so sellers can often prefer to have those tools that are worth it for them.
Helium 10 vs. Viral Launch: Comparison Of Key Features
Here is a comparison table of key features between Helium 10 and Viral Launch:
| | | |
| --- | --- | --- |
| Feature | Helium 10 | Viral Launch |
| Keyword Research | Yes | Yes |
| Product Research | Yes | Yes |
| Listing Builder | No | Yes |
| PPC Management | Yes | Yes |
| Split Testing | Yes | Yes |
| Inventory Management | Yes | No |
| Financial Analysis | Yes | No |
| Chrome Extension | Yes | Yes |
| Training and Support | Yes | Yes |
Helium 10 vs. Viral Launch: Which Is Ease To Use?
The sellers always prefer to have those easy to use and have a user-friendly interface. Helium 10 is great for newbie sellers and advances both to have ease of access. It comes with the Black Box tools and a clean dashboard, and you get everything on the dashboard.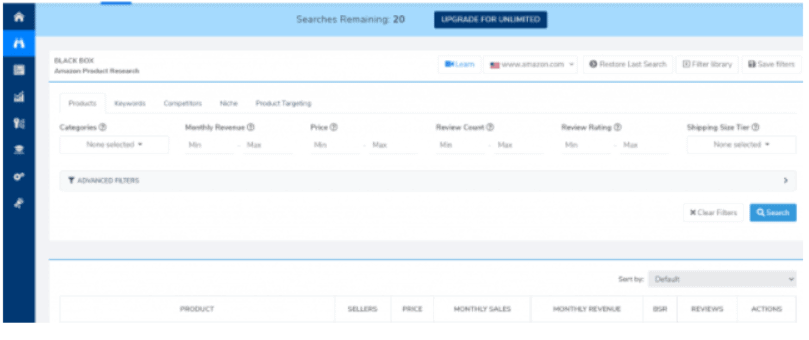 However, some options may be confusing for beginner sellers, but they can use the Freedom Ticket course and resources to understand how the tools work. Moreover, many filtering options let you get customized data. 

There are many more filters available that help to get the sales records and fetch out more results easily. The graphical representation is further helpful to get data quickly. On the other hand, Viral Launch is easy to use and has an excellent user-friendly interface. 
With the Viral launch, you can easily find even the macro details and narrow down the search. Like Helium 10, you don't get the graphical representation in Viral Launch. But overall, it has a clean interface. 
Helium 10 vs. Viral Launch: Keyword Tracking 
Helium 10 and Viral Launch both offer keyword track features that help fetch out keywords that help optimize the list. In addition, helium 10 offers a keyword explorer tool and keyword magnet that help to get long-tail keywords for product optimization. Again, this helps bring sales and get more revenues.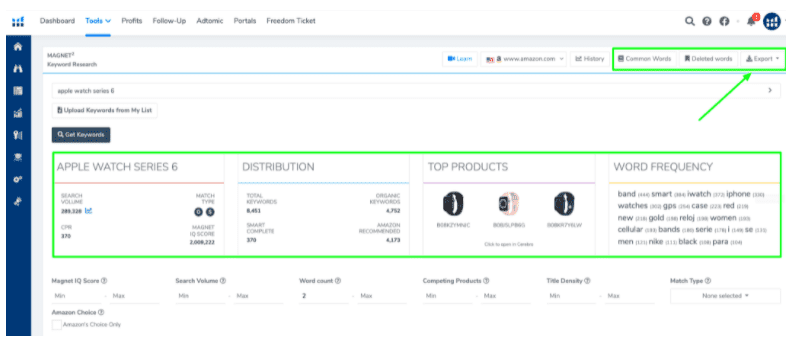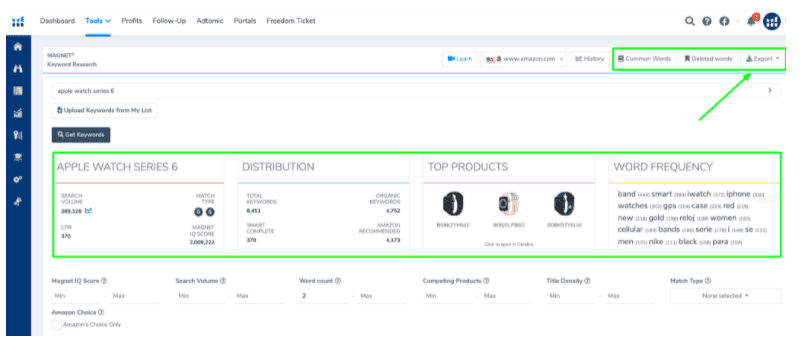 At the same time, Viral Launch does offer a keyword tracking feature, which is helpful to find out the keywords and get more sales. However, you do not get exclusive features like Helium 10, as it offers a misspelling checker tool, which helps to get better results.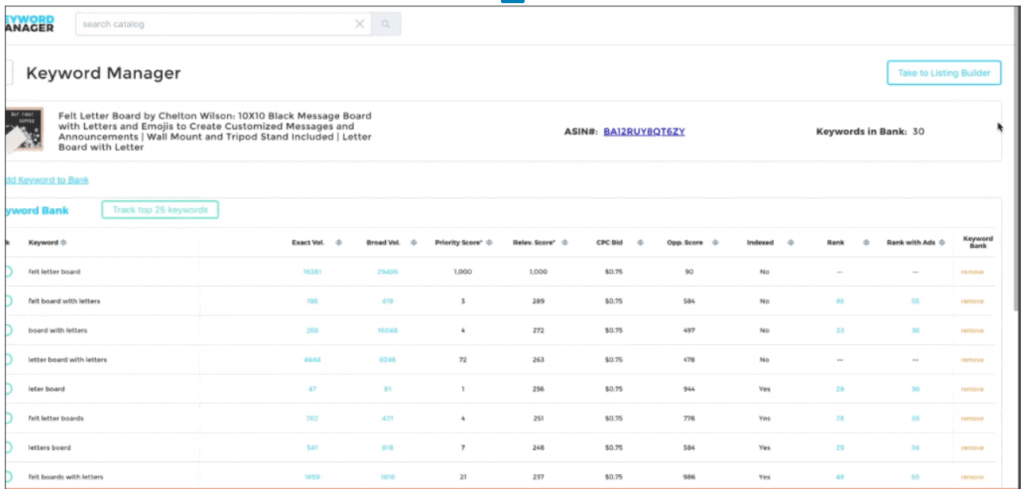 Helium 10 vs. Viral Launch: Key Differences Between Them 
Though Helium 10 and Viral Launch offer similar features, they are different in various ways. Here are some of the key differences between the Viral Launch and Helium 10. 
Opportunity Score 
The opportunity score is helpful to find out the targeted audience so that you can easily fetch more results. Helium 10 provides the opportunity score tool for finding opportunities. Sadly, you can't leverage the tool in Viral Launch. If you need complete access, then Helium 10 would be best. 
Inventory Management 
Inventory management is good for stock management and notifying when to refill. Helium 10 offers partial inventory management at the same time. Viral Launch doesn't provide these exclusive inventory management features. 
Product Split Testing 
Product Split Testing is excellent for checking which product variant is great for selling. Viral Launch here beat Helium 10 as it doesn't offer the product split testing. With this, you can easily compare two different variants and get the best products. 
PPC Pricing Tool & Reporting 
PPC pricing tool & reporting helps demonstrate the result of the PPC campaign. This does not only help to monitor the results but also allows you to make more revenues. Viral Launch provides this feature, whereas Helium 10 doesn't offer it. 
PPC Customer Support & Training 
This tool is pretty helpful to know how to run the PPC. Here, the Viral launch once again beat Helium 10. With this tool, you will know how to get better results with a PPC campaign. This would be great for beginners and advanced sellers who want to achieve more sales. 
Product Tracking 
Product tracking is excellent for knowing which products are making more sales and trending. Moreover, this is also helpful to know whether the products are making revenues or not. For product tracking, Helium 10 is excellent. At the same time, Viral Launch doesn't have this feature. 
Historical Data Analysis 
Historical data analysis, such as pricing and sales tracking, is essential for success and revenues. Sadly, Helium 10 doesn't offer you historical data analysis, but Viral Launch does offer this tool. With this tool, you can get historical data that lets you know at what price your competitors are selling products and the past sales record. 
Mobile App 
The mobile app needs hours because it helps track the entire data and monitor everything. Helium 10 does offer the mobile app, but Viral Launch doesn't. 
Helium 10 vs. Viral Launch: Which Is Affordable 
Pricing is always an issue for FBA sellers, especially beginners. So, let's see first which tool can be best fitted to the sellers' budget. 
Viral Launch Pricing Plan
The Viral Launch is affordable for beginner FBA sellers. There are three different pricing plans which are offered to the sellers.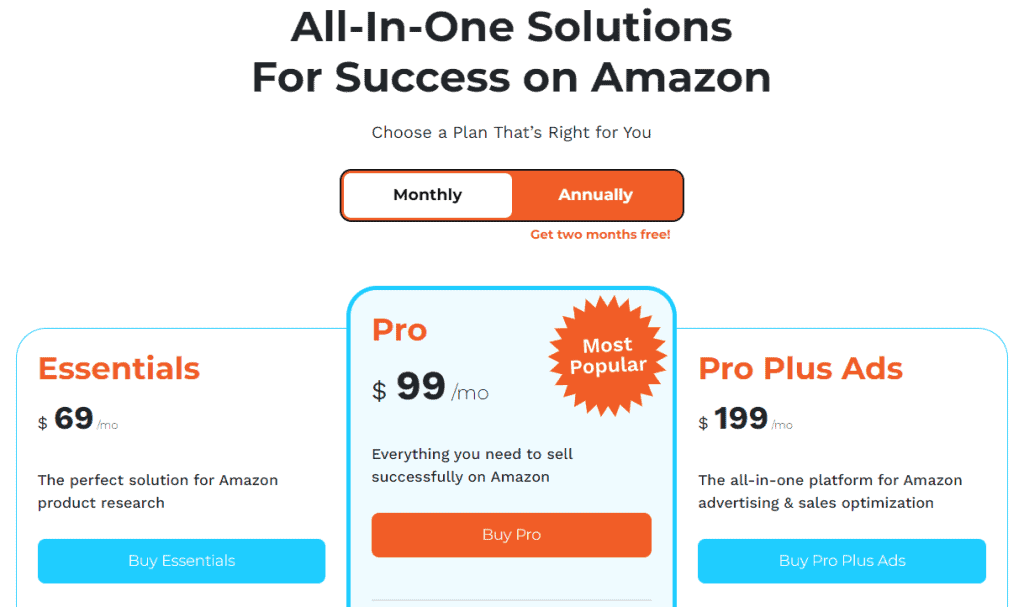 Essential Plan: The essential plan is available for $69 per month. The plan is excellent for finding potential products and keyword research only. 
Pro Plan: The Pro Plan for viral launch will be available at $99 per month. This premium plan is excellent for advanced sellers who want to achieve more revenue and business success. It offers several tools like product finding, tracking products, keyword analysis, performing sales analysis, and much more.
Pro Plan Ads: This plan is good for agencies and available at $199 per month. It covers all the exclusive features that help to set up your successful business. 
Helium 10 Pricing Plans
Helium 10 offers four pricing plans that suit all seller's needs. The Helium 10 pricing plan is as follows: 

Starter Plan: The monthly fee is $39 for this bundle. You may use the X-Ray, keyword tracker, product discovery, and other tools with this. It also provides free ticket courses and allows you to locate products. The plan, however, offers a limited range of features and is best suited for beginner sellers.
Platinum Plan: The monthly charge is $99 for this package. In addition, the plan gives you access to the X-Ray, product research, opportunity score, and other tools. 
Diamond Plan: The sellers need to pay $279 per month for the diamond plan. However, in this plan, you get all the features that help achieve maximum revenues. The features are an index checker, keyword tracker, multiple users' login, and many more. 
Helium 10 vs. Viral Launch: Pros & Cons
Helium 10 Pros:
A comprehensive suite of tools for the entire selling process

Very strong product and keyword research capabilities

Detailed competitive intelligence analytics

High level of data accuracy from Amazon API

Customizable alerts for tracking products
Helium 10 Cons:
It can be expensive compared to other tools

The steep learning curve to master all features

Support and training not as robust as Viral Launch

Some issues with sales estimation accuracy
Viral Launch Pros:
Excellent product opportunity identification

Strong PPC and listing optimization tools

Wide range of educational resources and support

Specializes in launches and promotions

More affordable pricing and custom recommendations
Viral Launch Cons:
Not as many robust analytics features as Helium 10

Data accuracy falters outside core capabilities

Integration with Amazon Ads is not as deep as Helium 10
Helium 10 vs. Viral Launch: Resources and Customer Support 
Resources and customer support are the two most crucial aspects for FBA sellers. This is helpful to attend to the queries on time and helpful in learning how the tools work. Thus, when it comes to having the resources and customer support, Helium 10 is best. 
Why? It is available 24×7 nights and provides email support. Moreover, there will be a Freedom Ticket course and free webinars that help you understand the tools and how they work. Most of the queries are solved on the spot. 
At the same time, Viral Launch works similarly in terms of resources and customer support. Like Helium 10, Viral Launch also offers the best support system for its customers. In addition, there will be two courses launched by the Viral Launch, which help the sellers to excel in business. 
Helium 10 vs. Viral Launch- Which One to Choose? 
So, now you both get the idea about both these tools and know that these tools are similar in terms of features. However, if you want to choose the best tool for your business, then here are some things you can consider. 
If you want to access the tools for free, Helium 10 has a free plan to explore the tool before you invest. However, Viral Launch also provides a 14-day free trial to test the tool. 
Choose a Viral launch to leverage the PPC campaign and historical data analysis. 
Helium 10 is excellent for sellers who want to excel in their businesses and earn maximum profit. 
Helium 10 is excellent for advanced features and provides you with exclusive features like keyword magnets and PPC campaign tools. 
Keyword tracking is excellent for Helium 10.
Related Read:
Final Thoughts: Helium 10 vs. Viral Launch
So, here we end up comparing the Helium 10 and Viral Launch. In the end, I can say both tools are exceptional on their own. However, when it comes to meeting requirements, Helium 10 offers better features and resources for learning. 
At the same time, Viral Launch is way better because of its affordability. So now, it's on you which tools are right for your FBA business. 
Frequently Asked Questions
Does Viral Lunch provide PPC automation tools? 
Yes, Viral Launch offers PPC automation tools that help to improve your campaign and help you achieve more sales. The PPC campaign would benefit seasoned sellers who want to earn maximum profit. 
Which is good for product tracking, Helium 10 or Viral Launch? 
In terms of product tracking, Helium 10 and Viral Launch have no competition because Viral Launch doesn't offer product tracking features. So, if you want to leverage the features, Helium 10 would be the right fit for your business. 
Whose product data is more reliable, Helium 10 or Viral Launch? 
As we already discussed above, the Viral Launch data accuracy is 79.4%, which is way better than the Helium 10. So, you can easily rely on the Viral Launch for accurate data about product research and price tracking. 
Why are keywords essential for product listing? 
Adding search-related keywords in the product listing can help divert more results. This brings visibility and helps to drive more traffic to your products. Hence, in turn, you receive more sales and growth in the business.