Are you trying to decide between Jungle Scout and Helium 10 to find the best products to sell on Amazon? If so, you've come to the right place. 
In this article, we will compare Jungle Scout and Helium 10, providing you with the information needed to make an informed decision. By analyzing features, pricing, user reviews,  and more. We will give you a comprehensive overview of both platforms.
By the end of the read, you'll have all the details necessary to make a confident choice that's best suited for you and your business.
Let's dive in straight to the details. 
Jungle Scout vs Helium 10: Overview
Let's compare these two great Amazon seller tools.
Jungle Scout Overview
Jungle Scout is one of the best FBA seller tools that provide several features to improve your sales. This tool has features like a Product finder, keyword tracker, sales optimizer, price tracking, etc. The features are helpful in getting essential data to increase sales and earn six figures. To get more information about Jungle Scout, checks out our Jungle Scout Review here.
The tool is easy to use and provides data for everything on the dashboard. It's a great tool for beginner and advanced sellers looking for ways to get maximum revenues. There will be resources that help to use the tool easily. 
Helium 10 Overview
Helium 10 is also an excellent tool for achieving your sales goals and managing the FBA account. Like Jungle Scout, this software also provides an incredible set of product finders, keyword trackers, hijack alerts, product list optimization, keyword magnet, and many others.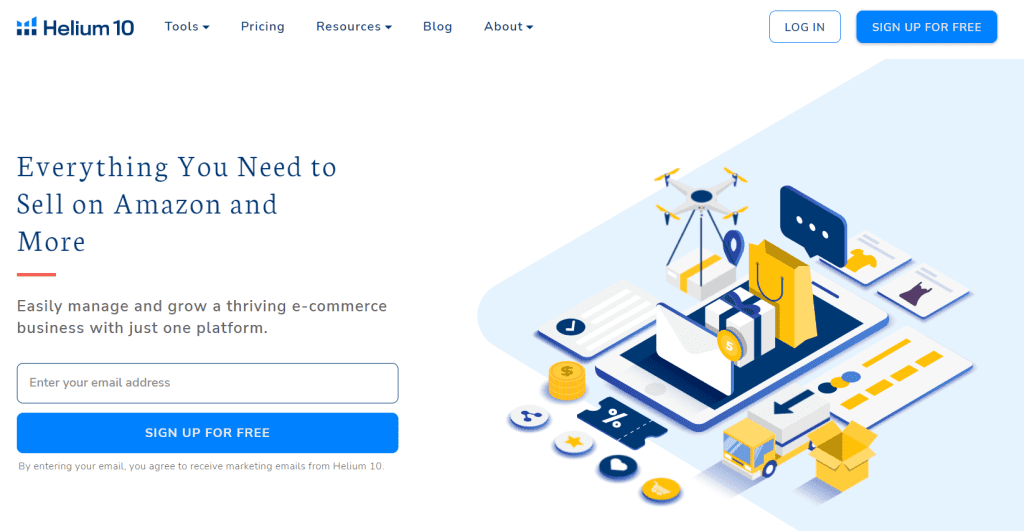 This tool is good for beginner, intermediate, and advanced sellers. The best thing about having the Helium 10 is it recently included advanced features like Hijack alert, inventory protector, and sales optimizer tools. These tools are helpful in protecting your important data and running a profitable business. It also provides free access to the tool with limited features so that you can easily try the tool. 
To get more detailed insight into Helium 10, then check out our in-depth Helium 10 Review here.
Jungle Scout vs Helium 10: Data Accuracy
Here is a quick comparison of both tools in terms of data accuracy. 
Jungle Scout Data Accuracy
Jungle Scout is renowned for its data accuracy. Their team of data scientists, engineers, and product developers work hard to ensure that you get the reliable metrics that you need, with an impressive 84.1% data accuracy, 10% higher than Helium 10. Jungle Scout performs regular tests and closely monitors data accuracy to deliver nothing but the most reliable information to you.
Helium 10 Data Accuracy
Although Helium 10 has been used for accurate data, its 74% data accuracy is not quite up to par when compared to Jungle Scout. For Amazon sellers who depend on accurate metrics, discrepancies can result in significant costs, both in terms of time and money. After thorough research, Helium 10 emerged as the third most accurate tool among several Amazon seller tools. Although there is potential for improvement, the current margin of error falls short of expectations
Jungle Scout vs Helium 10: Ease to Use
Here is a quick comparison of Jungle Scout and Helium 10 in terms of ease to use.
Jungle Scout Ease to Use
Jungle Scout is known for its simplicity and intuitive design. It offers a clean and easy-to-navigate interface, making it a great option for beginners. The tool provides key data points such as product sales estimates, historical trends, and competitor analysis, helping sellers make informed decisions. Jungle Scout also offers a Chrome extension, which allows users to access data directly on Amazon product pages. This extension is particularly convenient for quickly analyzing product opportunities.
Helium 10 Ease to Use
Helium 10 offers a comprehensive suite of tools with advanced features. Though steeper to master than Jungle Scout, it provides a wider range of functionalities. Helium 10 includes tools for product research, keyword research, listing optimization, inventory management, and more. It also offers product indexing, refund assistance, and keyword tracking features. These advanced features can benefit experienced sellers who require a more robust toolkit.
Helium 10 vs Jungle Scout: Keyword Tracking 
Now, this is something that you need to compare at a glance. Both these tools provide keyword-tracking features. Jungle Scout lets you find the keywords to optimize the product lists and get more traffic. Whereas Helium 10 also provides the same, some more features are available.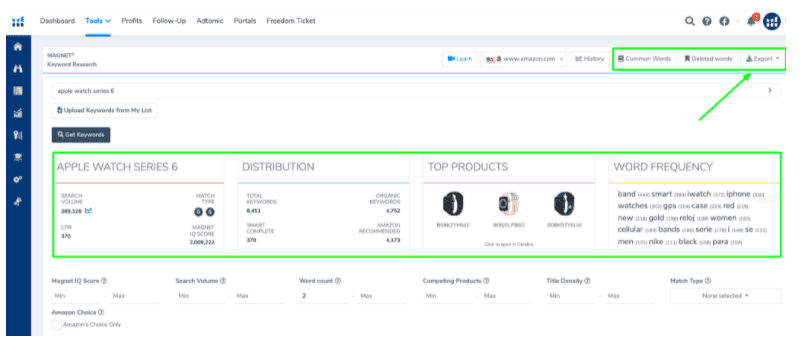 Helium 10 offers a Keyword magnet that helps fetch out long-tail keywords, which you can use to optimize the products.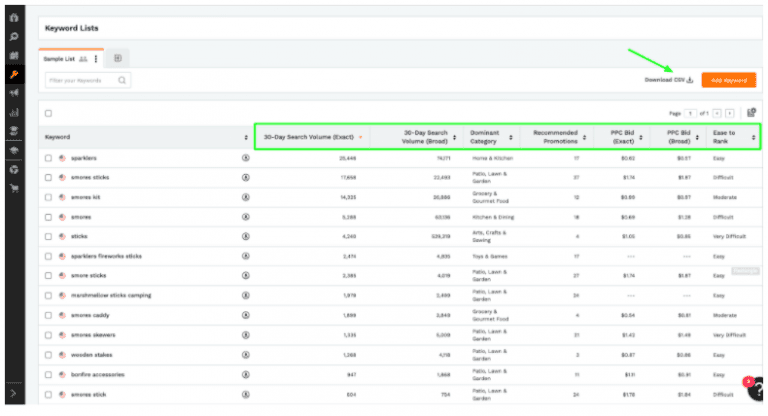 Moreover, it also provides a misspelling checker, which helps to track the keyword and insert it at the front and back end of the keyword to track the keywords. In a nutshell, the keyword tracking of the Helium 10 is impressive compared to the Jungle Scout. 
Jungle Scout vs. Helium 10: Key Feature Comparison
Here we have given an in-depth comparison of the key features between Jungle Scout and Helium 10. So without any hassle, let's see the comparison table. 
| | | |
| --- | --- | --- |
| Features  | Jungle Scout  | Helium 10 |
| Keyword Research | ✅ | ✅ |
| Product Tracking | ✅ | ✅ |
| Keyword Rank Tracker | ✅ | ✅ |
| Product Research | ✅ | ✅ |
| Request Review in One Click | ✅ | ✅ |
| Opportunity Finder | ✅ | ✅ |
| Profit & Sale Tracking | ✅ | ✅ |
| Inventory Manager | ✅ | ✅ |
| Opportunity Score | ✅ | ❌ |
| Global Supplier Database | ✅ | ❌ |
| Mobile App | ❌ | ✅ |
| Home Dashboard | ✅ | ❌ |
| PPC Automation Tool | ❌ | ✅ |
| Product Launch Service | ✅ | ❌ |
Helium 10 vs Jungle Scout: Key Differences  
Since we all know that both tools have almost similar features, there are still some scopes where both these tools differentiate from each other. So let's have a look.
Sadly, Jungle Scout doesn't offer product launch services. But Helium 10 does provide, and you can easily launch the products with the help of this integral feature. This tool is helpful in gaining customers' attention. 
The PPC automation tool is pretty helpful for sellers. This will act as a marketing channel that helps to gain more traffic and return on investment. However, if you want to leverage this tool, the Helium 10 is worth it for you because Jungle Scout still doesn't offer the PPC automation tool. 
You can easily start a campaign and achieve sales goals with this tool. This not only brings success but is also helpful in gaining more revenue. 
Mobile application is vital because most of us have access to products and management from mobile devices. Here again, Jungle Scout lacks and stays behind Helium 10. Jungle Scout doesn't offer a mobile application, whereas Helium 10 provides one. 
Here, the Jungle Scout excels more than the Helium 10. Jungle Scout is a Pro tool in opportunity finder. This tool allows you to track the customer's behavior and purchasing habits and let you know what people are looking for on Amazon. Although Helium 10 also provides you with an opportunity finder tool, it is not functional like Jungle Scout. 
Product tracking is essential to running a successful business. Both these tools offer product tracking features, but in terms of accuracy, Jungle Scout again wins the place. Jungle Scout provides better results and has 84.1% accuracy when finding the product. 
Helium 10 also provides product tracking, but the accuracy rate is less than the Jungle Scout. 
Jungle Scout offers an unlimited email campaign that helps fetch more sales and helps the sellers to catch more customers. However, Helium 10 doesn't offer an email campaign. So, if you want to leverage the email campaign, then Helium 10 is the right tool to have. 
There is no comparison of the Jungle Scout when it comes to having a global supplier database. It provides you with data from almost all the marketplace. Helium 10 still lacks the features. You get a database from a particular location. 
Helium 10 vs Jungle Scout: Resources & Customer Support
When it comes to FBA tools, the two most important elements that all FBA sellers look for are resources and tech support. So, in this piece, we'll go through the customer support system of this product discovery tool so you can figure out which one best suits your demands.
Jungle Scout is a paid Amazon FBA seller tool that gives you access to many tools to help you get to be a top player seller. 
Jungle Scout Academy is a platform feature that allows merchants to learn about the tools and progress to advanced levels.
A full training library and case studies are also available, assuring improved results. In addition, you'll receive a tooltip Tuesdays to keep you informed of product features and frequent webinars. As a result, you will obtain the required results and better understand the instrument.
In addition to this, Jungle Scout also provides you with a robust customer support system that helps you attend to all the queries and makes you capable of learning things. 
At the same time, Helium 10 also provides a live training academy and Freedom Ticket that help the sellers to know about the tools and how to use them to improve sales. Moreover, you get the best customer support system that helps get the answers to the queries. 
Jungle Scout vs Helium 10: Pricing Plans
Let's compare the pricing plans of both of these tools.
Jungle Scout Pricing Plans 
Jungle Scout generally provides three pricing plans that suit all the FBA sellers, which are as follows: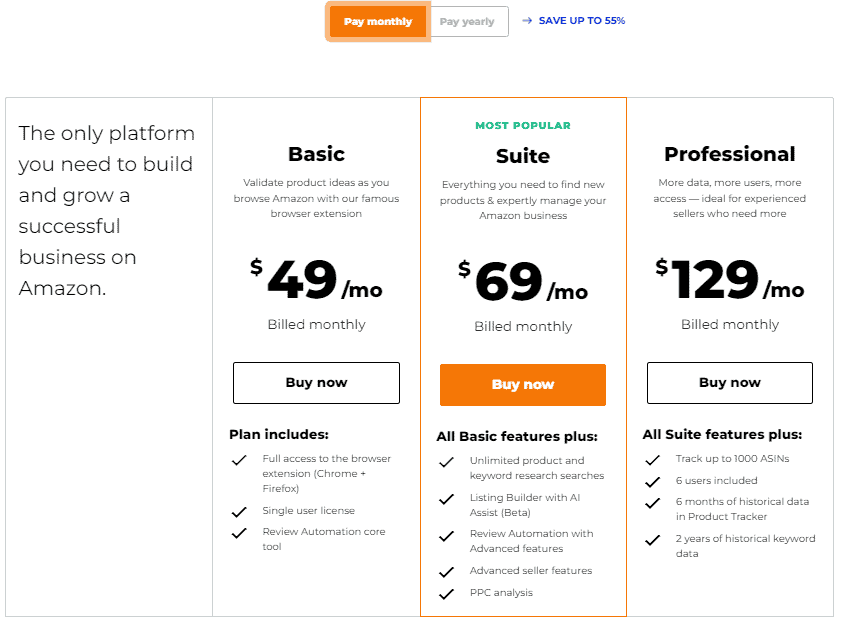 Basic Plan 
The plan helps validate the product ideas and is perfect for beginner sellers who want to grow their businesses. For this plan, sellers can pay only $49 per month. This will cover features like a single-user license, keyword research, access to browser extensions, price tracking, and finding products. 
Suite Plan 
This includes everything you'll need to discover products and run your business. The package costs $69 per month and is suitable for small and bigger Amazon FBA businesses. It allows you access to historical sales data, product listing, Hijack tracker, and keyword data. This also has review automation. Aside from that, you have access to a larger number of user licenses.
Professional Plan 
The monthly cost of the professional plan is $129 per month. This package unlocks additional capabilities and makes it easy to find over 1000 ASINs. A product tracker can provide you with six months of previous data.
Helium 10 Pricing Plan 
Helium 10 provides four different pricing plans for the FBA sellers that are excellent for FBA sellers. The pricing plan is as follows: 

Starter Plan 
The package costs $39 per month. This grants you access to the X-Ray, product finder, keyword tracker, and other features. It also offers a free ticket course and gives you access to locate merchandise. However, the plan has a restricted set of features and is ideal for first-time sellers.
Platinum Plan 
The package costs $99 per month. This grants you access to the X-Ray and free tickets and the ability to locate merchandise. However, the plan has a restricted set of features and is ideal for first-time sellers.
Diamond Plan 
Sellers can pay only $279 per month for this plan. This plan would be great for sellers and agencies who want to achieve more revenue. It covers almost all the features like keyword tracker, index checker, multiple users' logins, product finder, and many more. 
Enterprise Plan 
The enterprise plan is excellent for FBA entrepreneurs who want to increase revenues. This plan has all the features that help to run a profitable business. 
Jungle Scout vs Helium 10: Pros & Cons
Here we have listed the pros & cons of Jungle Scout and Helium 10. Let's have a look:
Jungle Scout Pros
User-friendly interface
Accurate sales estimates
Product database for product research
Chrome extension for real-time data
Competitor analysis features
Jungle Scout Cons 
Higher pricing plans compared to some competitors
Limited features in the basic plan
Helium 10 Pros
A comprehensive suite of tools for Amazon sellers
Extensive keyword research features
Powerful listing optimization tools
Inventory management capabilities
Lower pricing plans
Helium 10 Cons
There is a limitation in the starter plan
Steeper learning curve due to the abundance of features
An interface can be overwhelming for beginners
Related Read:
Final Verdict: Jungle Scout vs Helium 10
So, here we end the detailed comparison between the two biggest FBA seller tools, Jungle Scout and Helium 10. So now you know which tool is worth it for your business and which can provide you with satisfactory features. 
However, if you want to ease the tool, Jungle Scout is incredibly easy, and beginners can easily access it. Helium 10 is also great, but the layout is quite confusing. But there is a Freedom Ticket course that helps the sellers to know how the tool works. The final decision is on you and brings success to your business. 
Frequently Asked Questions 
Which tool is best for product inventory management Jungle Scout or Helium 10? 
Both tools are excellent for inventory management. However, Helium 10 recently added new upgraded features for protecting the inventory management data and Hijack tracker. This gives better protection and stops the stealers from taking your data. So, Helium 10 would be great. 
What if I want to discontinue the Helium 10 subscription plan? 
If you don't want to continue with Helium 10, cancel the subscription. It comes with a 30-day money-back policy, which means you can claim your money back if you cancel the subscription within a given period. You can also start with the Helium 10 free plan, which provides limited features to know the worth of the tool. 
Does Jungle Scout help in searching for trending products? 
Yes, you can find trending products with Jungle Scout. This helps to search for the most profitable products, sellers' choices, and others. You can even optimize your product listing to get better traffic and results. 
Which tool offers the PPC automation tools, Jungle Scout or Helium 10? 
Helium 10 offers the PPC automation tool, which is helpful in marketing and campaign of the listed products and helps fetch out more results. This is turning helpful in improving sales to receive more revenues. 
Does Jungle Scout offer a free plan? 
No, it doesn't provide you with a free plan; instead, it offers a seven-day money-back guarantee. So, you can text any of the premium plans, and if you're not satisfied, then cancel the subscription plan and claim the money back.