Web hosting, domain registration, and website creation for personal use, or professional and business purpose have been very popular services lately. iPage is a similar service owned by Endurance International Group which offers website building, hosting, and domain registration services to users. iPage also offers shared web page hosting packages that allow webmasters to create a website on their own or a template-based website Which allows users without any coding knowledge to create a website easily.
Endurance International Group has been the largest web hosting provider on the internet. They own around 83 brands with numerous hosting businesses and support agencies however there are several other competitors such as Rackspace, GoDaddy, 1&1 Internet, etc offering similar services in the web hosting market.
Ipage Hosting – Introduction
Ipage was founded in 1998 as a web services provider however company started operating as a web hosting provider in 2009. Ipage targets the entry level and budget pricing market. It also offers dedicated server plans for higher traffic on websites alongside hosting and domain registration services. Parent company Endurance International Group also owns Bluehost and HostGator which are also web hosting services. They are the Internet's largest web hosting providers at a very budget friendly cost and user friendly operations.
Features:
Ipage is very simple to use which is the biggest feature it offers. They offer one Shared Hosting where users can drag and drop templates to make their own website without any coding knowledge and also unlimited disk space, bandwidth, and MySQL database. They offer domain name free for a year with SSL Certificates and unlimited email addresses on the domain. There are also wordpress hosting services with two different plans offering free domain, unlimited bandwidth, and storage, customized control panels, pre-installed themes and plugins, Professional security, malware removal, etc at very low cost and reliable service.
Ipage Coupon 2023 – Price & Plans
Ipage is regarded as the cheapest and most inexpensive hosting service. It has the most Budget friendly plans quoted as best value plans. They also offer discounts on starting prices even further. The regular go plan offers a $7.99 per month renewal date however if purchased for 3 years the prices get as low as $1.99 per month. For two years the service costs $2.49 per month and if purchased for one year it costs $2.99 per month.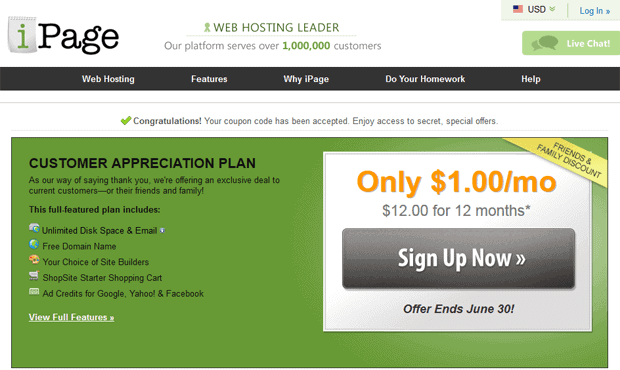 Ipage also offers a lot of 3rd party services free of cost which saves a lot of money from its users such as storage and unlimited email services. On top of that, a one-year free domain alone saves a lot of money. Like every service Ipage also has its pros and cons which are listed here-
Offers Lots of Third-Party Applications- Ipage has a lot to offer with its offering of open source applications including content management systems and blog software like WordPress, Drupal, Pixel Post, Joomla, gallery2, Zenphoto, phpBB, plus Gbook and SMF forums. They also have full-fledged e-commerce website designs and even help you integrate PayPal for accepting payments.
30 days money back guarantee- Ipage gladly accepts that you are not happy with their services and guarantees to refund in such situations. Users can ask to cancel service and refund within the first month of service. However, the domain name fee is deducted i.e. $15 and the user is free to use the domain name for one year.
Strong Uptime- Ipage sites have a receipt of 99.97% Uptime which is very reliable compared to many other services of this segment. The company claims to have a separate monitoring system for uptime where they monitor that website is open and available to visitors and fixes any down issues in real time.
Friendly Customer Support- Ipage offers 24*7 and very easy customer support through an online helpdesk and ticketing system. There are tutorials available for the defined task however one can opt for a chat or call support too. They are very active in customer support as reviewed by several users.
Loading Time- The loading time of Ipage websites has been mediocre and has room for improvement, however, there is nothing you can do to improve load time. Also adding more content only slow down the load time. This is certainly a downturn since more load time has less traffic.
A lot of Additional Fees on additional services- Ipage doesn't keep its basic plans with security and backup features. If you want security and malware remover features on your page or need to have a backup of the previous version of the website, you have to pay an extra fee. For Sitelock support, they charge $38.75 per month. Also, the backup service is priced at $2.09 a month for comprehensive backup and $1.14 per month for basic backup.
Not Good For Big Websites– Not everything is unlimited in this world and so are the plans and services of Ipage. Accounts with lots of files or large databases aren't a great fit since they can affect users on the same servers. Ipage also reserves the right to discontinue and remove such accounts and that too without notice. A smaller website and lower traffic are the best fit for Ipage Service.
No cPanel but VDeck Based- industry standards have been using cPanel as their dashboard however Ipage operates on VDeck which isn't as robust as cPanel. This is an issue for professionals who have been working on cPanel since it is widely used however there is no issue if you are a beginner.
Bottom Line:
Ipage is very much recommended for those who have small needs and budgets. They are also very user friendly and easy to work with which makes them the best choice. Also, the additional free services are very much recommended for their affordability however there are other services too that offer better services than Ipage in a very similar price range including security and backup features which are costly in Ipage.
Some Amazing Deals you can Grab now: