As a new Amazon seller, the term BSR might confuse you. You might even know that it means Best Seller Rank, but that's all you know about it. Today is your lucky day because we will break it down, so you can understand it. But why was the BSR created?
There are so many products available on Amazon. Each of the sellers of these products wants to make the most sales.
However, many buyers want to know the best item to buy. For this reason, Amazon came up with a metric to measure the best-selling merchants on Amazon.
This is called the Best Seller Rank. The BSR is a way to rank both sellers and products. Across the various categories of products, Amazon tracks the sales numbers for each product.
This data is used to estimate how great the product is doing. It can then suggest them to customers using artificial intelligence.
The BSR number is calculated by an algorithm. Below is all you need to know about Amazon BSR.
What is Amazon's Best Seller Rank?
The Amazon bestseller rank indicates how well your product is doing in the market.
Once you sell a single product in the catalog, Amazon assigns a seller rank number to the product. The lower your seller rank, the better your product is doing in the market.
Amazon does not award bestseller rank for a generic category. Instead, there is a bestseller rank specific to that category.
However, a single product can have multiple bestseller ranks. This is because some products are listed in separate categories, and each of these categories has a different bestseller rank that guides them.
How Is Amazon Best Seller Rank Calculated?
The team at Amazon has not specifically mentioned all the process that goes into assigning a BSR.
However, the following have been thought to play an important role in assigning a BSR.
The number of products you have sold over time.
How often do you change your prices
The number and quality of promotions you make for your product.
The prevailing sales trend also affects your BSR. This is because the Amazon BSR is updated on an hourly basis.
But it's not just the hourly sales rate that matters. The algorithm balances out your sales per time and reviews your BSR number.
What is the Difference between Amazon Best Sellers Rank and Organic Ranking?
Don't confuse the Amazon BSR with organic ranking. Amazon BSR has to do with sales or the number of products sold.
The organic ranking deals with how your product is found on the search engine. The BSR can contribute to your organic ranking, not the other way around.
Meanwhile, you can use Amazon BSR to know the frequency of sales for a particular product.
How Can I Use BSR to Estimate Sales?
Amazon's Bestseller rank is heavily skewed to reflect current sales more than previous sales.
There is a simple way to use the BSR to calculate the number of sales you need to make to reach a particular BSR number. It is called the Rule of 15.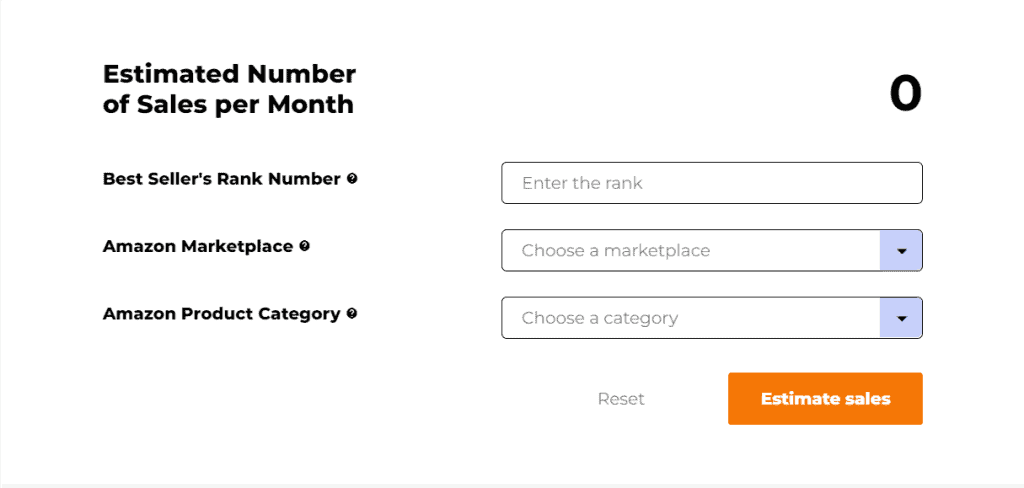 Use the monthly sales figure required to reach a particular rank. Then you divide it by 15. Whatever number you get is what you need to sell in 24 hours to reach the targeted rank.
Remember, those hourly sales will boost your ranking faster than daily sales. Daily sales will also boost your ranking faster than monthly sales figures.
How Can I Improve My BSR?
To improve your BSR number, you need to sell more products than your competition. Some ways you can do this include the following.
Price your products competitively so that customers can choose your products based on price and features.
Optimize your product listing and use relevant keywords. These keywords with the relevant SEO and PPC strategy will help your products rank better on the BSR list.
Use clear images as well as illustration videos for your product description. The easier a customer feels that they can have a feel for your product, the easier it is to decide on your product.
There are many strategies to boost your BSR number. Strategies that increase your sales numbers will help you increase your BSR number on Amazon.
What is a Good BSR?
A good BSR number is category-dependent. A good BSR in one category might not necessarily be a great BSR number for another category.
The best way to know a good BSR for your product is to work with your monthly sales figure. If you intend to sell 500 products, you can use it to decide.
There are third-party applications that can help you determine the optimal BSR for you.
Some Amazon seller tools can help you determine the best number for you. It is a great idea to subscribe to the service.
How Can I Use the BSR Information?
You can use the BSR number to project how much your competition sells.
It can allow you to have an idea of the demand for a particular product. You can use this data to track how good or bad you are doing. It measures your efforts against the effort of other sellers on Amazon.
You can decide if you need to double or multiply your efforts.
Can a New Product Have A Good BSR Number?
Every once in a while, you come across a new product with a better BSR than an older one.
While this may surprise you, it shouldn't. Amazon algorithm uses historical and present-day data to assign BSR.
However, the algorithm is more advanced. As a result, it can predict products that will do well from its information.
It can assign a BSR even if the catalog hasn't sold any product yet.
Why is the BSR Important?
The Amazon Best Seller Rank is important because it simplifies products for sellers. It also allows users to know which products can best meet their needs. It is a win-win method for Amazon, sellers, and buyers as it creates structure in the market.
Having a good BSR shows how in-demand your product is. It will not necessarily affect your product placement on the search engine. It is your keyword, and the PPC campaign will decide that.
However, the BSR gives you an extra layer of credibility for your products. This can help your sales figure.
Can I use Discounts to Improve my BSR?
Many people have tried to use a discount for gaming the system. However, Amazon has structured the algorithm to spot that out. Hence, increased sales from discounts do not automatically push up the BSR number of any seller.
If you intend to use a discount to boost your BSR, you may need to think again.
Related Read:
Conclusion:
Having broken down the Amazon BSR, you might have a final question in your mind. Is it a good strategy to pursue increasing your bestseller rank? We don't think that is a proper strategy.
Your goal as a seller is to sell the most product. Selling the most products means increasing the number of people who see your product. You should focus on your PPC, Keywords, and SEO instead.
You can dedicate a bit of your strategy to improving your BSR. However, when you focus on the criteria we have mentioned above, your BSR will naturally rise.