Have you been hearing about the term Amazon FBA around a lot? Are you trying to figure out how you can use Amazon FBA to earn profits for your business? If so, then you've come to the right place. Today, we are going to cover all there is to know about Amazon FBA.
FBA stands for Fulfillment by Amazon and is a service with which existing and new sellers on the platform can make more money without getting a lot of sales. As we all know, Amazon is a platform that connects third-party sellers to buyers. But what you may not know is that more than half of all the counted Amazon sales come from these indirect third-party sellers.
From this third-party seller count, more than 2/3rd of them use FBA services as the critical medium for their sales.
As of now, the count of sellers worldwide using the platform of Amazon FBA exceeds the number 2 million, and if you're thinking about adding to this number, then ensure that you know all about the platform.
In this article, we will take a look at what Amazon FBA is and other factors. So, let's get into details!
Amazon FBA: What is it?
As the name gives it away, Fulfillment by Amazon is a service provided by Amazon. It is a service that offers the associated third-party sellers of Amazon a means for automating their services of shipping and order fulfillment.

These services refer to Amazon becoming the critical handler of all things related to your sold products. These things include handling shipping, returns, refunds processing, picking, packing, Amazon warehouse processing, and many other related work processes.
So, in a nutshell, the process of this service works in the following order:
Third-party seller sends their products to Amazon
Amazon checks the contents of these products and stores them in its warehouse
You get all the metrics of your product sales
According to these sales, you can keep the cycle going on.
As long as you keep restocking the Amazon inventory products, Amazon will keep carrying out all the necessary work processes related to your product's sales.
Key Features of Amazon FBA
Since Amazon provides all of these services, it might have become evident that it does not do so for free. It charges you a specific fee for its services.
However, one thing about spending a little on the services provided by Amazon is that it does not let you feel like your money's gone to waste. The amount that you pay for FBA services lets you use many of the premium key features of the platform.
Some of the many features you get to take advantage of when you pay for FBA services are below.
24/7 Customer Service: When it comes to a B2B business, providing 24×7 customer service is the key to thriving. Therefore, the customer service provided by Amazon FBA is impeccable, fast in nature, and easy to get around.
Picking, packing, and shipping charges are included: While paying a little over-the-top might come as a sucker punch. But the algorithm of this service lets it make a good enough prediction about the upcoming number of your products' sales. The fee you pay to Amazon already covers all the fulfillment and shipping costs. Therefore, it makes your work a little easier and streamlined.
Access to a global-level dynamic network of fulfillment: The fact that Amazon serves as the most significant business in the retail and fulfillment field on a global level is common knowledge. With the pandemic on the rise, Amazon has got an uprise in its number of active customers in recent months. Hence, this is the best platform for selling through the means of dynamic fulfillment networks.
Comingling: Comingling is one of the latest added features of FBA. Comingling is a feature that refers to Amazon storing all the incoming units of a particular product with each other, despite the difference in its sellers. The method of inventory is termed "sticker-less inventory."
A Step-by-Step Guide to Getting Started with Amazon FBA
Below is the overall process of getting started with Amazon FBA in a nutshell. The key aim is to provide you with a good way around the outline of the getting started procedure of FBA.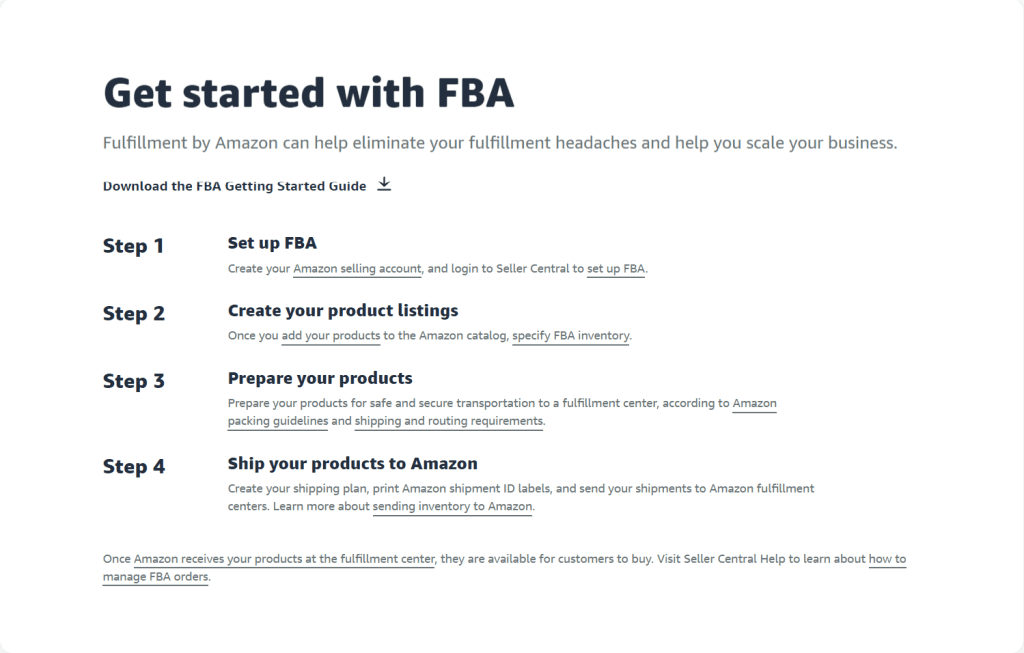 Make a small beginning.
Remember that Amazon FBS charges you for warehousing. Hence, the larger your products are and the longer they stay in the Amazon warehouse, the bigger check you'll have to make for covering warehousing charges.
Since you're also just starting, starting with small products and adding to the inventory in timely intervals will allow you to learn the best practices for making maximum use of FBA.
Make wise product choices.
Along with you, there are hundreds of thousands of other sellers on Amazon FBA. So, if you think of adding some products that you think will make you good pay, ask yourself if what you think is enough for driving sales.
The platform's competition is immense, and therefore, you need to be wise when choosing the products you want to send to Amazon FBA. The best practice is to select the most profitable products and avoid keeping a stagnant inventory.
Make use of online analytical tools.
For predicting which products will sell the best and are the most profitable at a particular time, you should use online analytical tools. A good combination of analytical tools can maximize your chances of making the right product choices and getting the most out of what you pay for its inventory.
Avoid stacking for too long.
As you already know, Amazon FBA charges you for inventory, as per how long you store your products in its warehouse. Therefore, you need to avoid stacking up the inventory with your products for too long.
You should especially try to avoid stacking up too much during the time of an occasion or global phenomenon. During these times, the cost of keeping inventory in FBA goes up by some considerable numbers.
Start building your brand.
You need to remember the basics of sales and marketing. "People don't buy products; people buy trust and brand." If you want to earn the most from Amazon FBA, you need to make a brand out of your business and make sure that people know its name.
The more public your brand is, the biggest is your chances of earning more profit and accounting for more sales.
Perks and Drawbacks of Amazon FBA
Now that we know what Amazon FBA is and how you can start earning from the platform, let's talk about the pros and cons of the platform. These pros and cons will also help you see the platform's potential and decide for yourself whether or not it is the right one for your business.
Therefore, without further ado, below are the most numerous pros and cons of Amazon FBA.
Pros:
Shipping and logistics handling fluency: As said before, Amazon FBA covers the handling of shipping and logistics of your products. The only thing you will have to do in this context keeps the listings in check and ensure that they are stocked. Therefore, the amount you pay to Amazon FBA takes a whole load off your shoulders.
Shipping rates discounts: As you are already paying for the services of Amazon FBA, you get special discounts on the shipping charges of your products. Hence, you have to pay fewer shipping fees when you decide to opt for the services of Amazon FBA.
Returns and refunds management: Amazon FBA takes full responsibility for your products and, therefore, manages all of your products' return and refund processes. Hence, it eases your work even more.
Better CSM (Customer Service Management): Amazon is a global business and, therefore, houses the best customer service, and managing teams. The individuals in these teams manage the customer management side of your products for you.
Faster Delivery: The products you sell through FBA are automatically taped with the Amazon Prime tag. The delivery speed of Amazon prime is one of the fastest among courier services worldwide.
Bigger Storage Space: You have to pay for the inventory to Amazon FBA. But the charges you get to pay are comparatively low from the market trends. Therefore, you get to have bigger storage space.
Cons:
Cost: Though the amount that Amazon FBA charges are comparatively low, it is still a lot for anyone who's getting started. Amazon FBA is an excellent service, and its features justify what it costs. Many people may not have enough resources to spend that much yet. If you pass low-cost products to a handy FBA calculator to calculate the amount that you'll get charged, you'll get to know how inefficient it is to use Amazon FBA as a small seller.
Increased returns: Most of the products on Amazon have an open and return policy. Though it may not be connected, most sellers say that they see more of their sold products getting returned after collaborating with Amazon.
Overtime Increasing Fee: Amazon FBA charges you for the number of products you store, how much space it takes, and how long you keep them in an Amazon FBA warehouse. The longer you keep it in a warehouse, the more you get charged.
Prepping Requirements: Amazon has some guidelines for the products that it accepts to put in its warehouse. If your products do not pass these prep guidelines, they are returned to you.
Sales Tax: The tax you have to pay for your products differs on the state of the warehouse where your products are being stored.
Fee payment: Amazon is not lenient when it comes to getting paid. If you don't pay off your dues on time, Amazon takes it off of your check. If that is not enough, you have to provide your credit card.
Amazon FBA-Pricing
The part that intrigues most people is pricing. Are you also wondering how much Amazon FBA costs? Well, the answer is not a certain specific amount.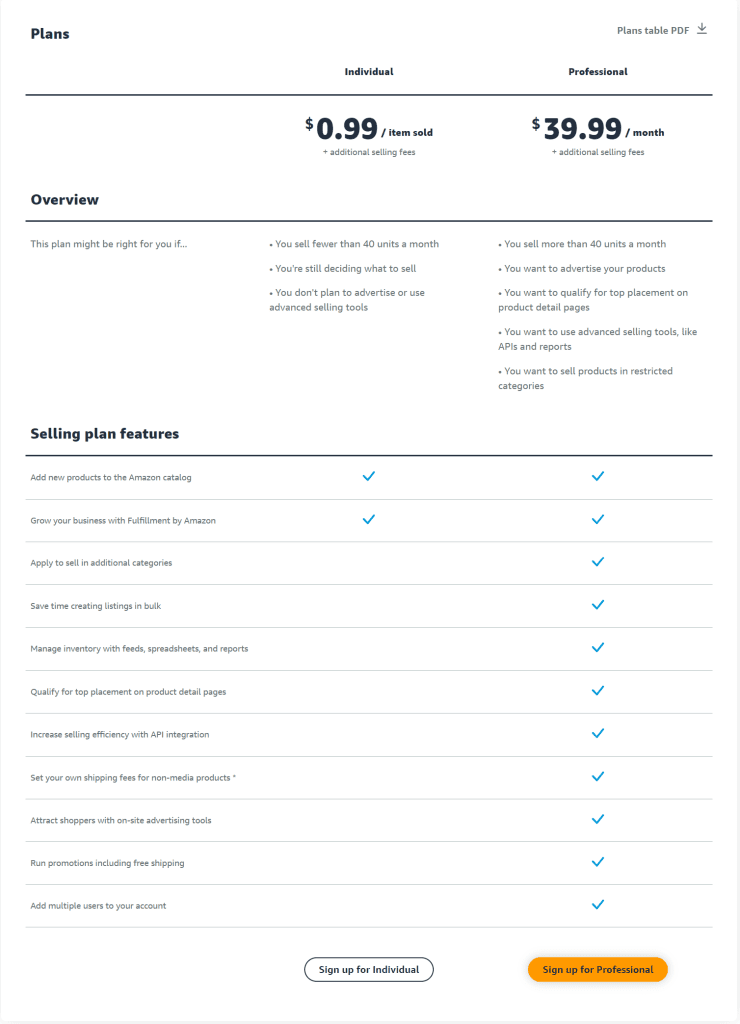 The pricing of Fulfillment by Amazon depends upon three variables:
The size and weight of your products
The storage fee and fulfillment fee of the FBA program
The time that your products occupy Amazon's inventory.
By going to the official website of Amazon FBA, you can look at how it charges on all of these three conditions. With that, you can predict a pretty near amount to what Amazon FBA will cost you.
Is Amazon FBA worth it?
Amazon FBA is one of the best sales and marketing services you can get at the fee you get to pay. It is a platform that lets you get so much out of your money on marketing and selling your products.
FBA handles all of the main sales-related tasks of your product. All you have to do is ensure that its inventory gets stacked with products continuously, considering the occurring sales.
If you can afford it and have the right products to sell on the platform, then YES, Amazon FBA is the best program to get started in the game of making one-off sales.
Related Read:
Final Verdict:
In a nutshell, the Amazon FBA program is an excellent program for beginner and full-fledged businesses who want to give their products the best inventory and get the best fulfillment out of it. If you want to know more about the technicalities of the FBA program, we highly recommend that you take a look at the Amazon FBA website.
We hope this article helped you understand what Amazon FBA is. If you have any questions about Amazon FBA, let us know in the comments section below.