Have you ever wanted to start your own business selling products on Amazon? If so, then Jungle Scout is a great tool for you. Jungle Scout is a comprehensive suite of products that helps you find and evaluate the optimal product opportunities on Amazon.
It helps you find the right products for your business and provides detailed data on competition, sales, pricing, and more. With Jungle Scout's easy-to-use interface and extensive resources, it's easier than ever to get started selling profitable products on Amazon.
In this review, we will cover everything you need to know about Jungle Scout and how it can help your business succeed.
So let's dive in!
What is Jungle Scout?
Jungle Scout is a powerful suite of tools for sellers on Amazon. It provides valuable data and insights to help you make better decisions while selling products on the platform. The web application offers features such as product research, sales analytics, keyword tracking, market analysis, optimization, and much more.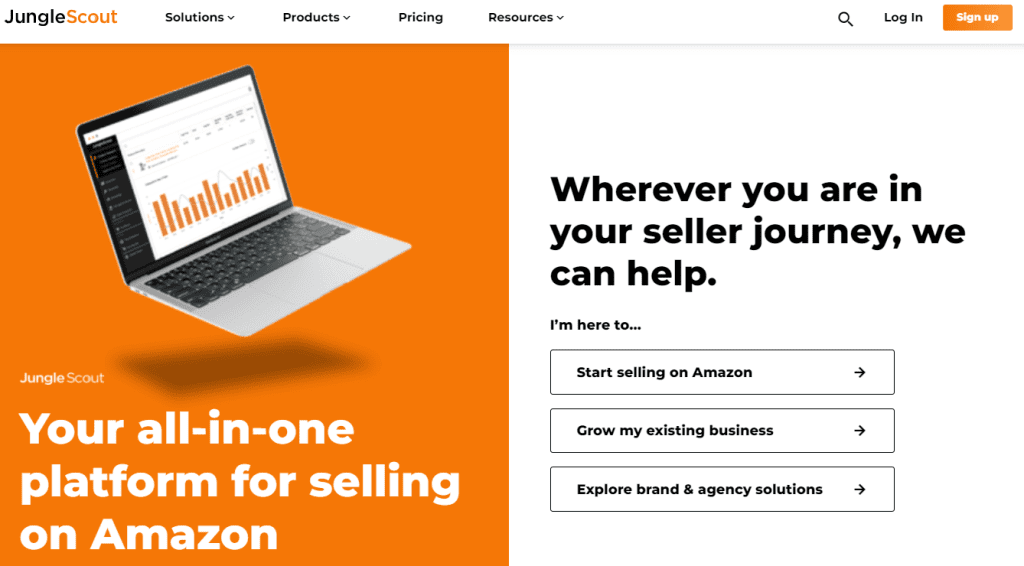 It's designed to give users an edge when competing in the online marketplace. With Jungle Scout, you can identify the best products to sell on Amazon and have a better understanding of your competitors. And with its automated tools, you can save time and resources while still getting dependable info about market trends.
Why choose Jungle Scout?
Your product is the most important aspect of your journey as an FBA seller. However, with millions of merchants showcasing their products at the same time, it's somehow tricky to find the sweet spot for your product. 
To overcome this situation, you need reliable factual information about your product as well as the market. Jungle Scout works with real-time data, which means it shows you how lucrative and in-demand your item will be for you or if it's even worth selling at all. 
In addition, Jungle Scout also helps you manage your inventory while keeping an eye on the suppliers and their prices. It's an excellent tool for keeping tabs on competitors using various market research tactics. You can accurately determine the number of vendors selling a specific product as well as the most commonly used keywords for it.
Jungle Scout also includes other fantastic sub-tools, such as web browser extension compatibility, which allows you to find all of the important information about your Amazon business account in just a few clicks.
Jungle Scout: Data Accuracy 
Data is a key element of any Amazon business tool, and its accuracy decides how successful your market plans are likely to be. As I previously stated, Jungle Scout has data on over 70 million products from various Amazon marketplace sellers.
Jungle Scout, which is trusted by hundreds of thousands of Amazon FBA sellers, is known for providing reliable and accurate statistics. Based on multiple polls and trials with several other FBA seller tools, Jungle Scout sits comfortably on top of the list.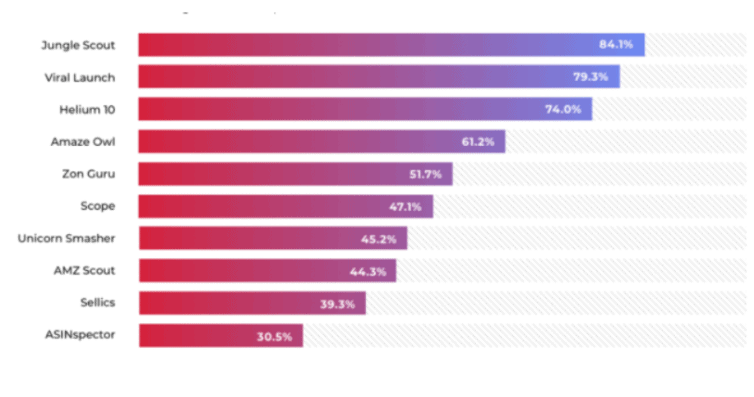 With an accuracy rate of almost 84.1%, it is the most accurate seller platform available in the market right now. For product analysis and market research, Jungle Scout is the first choice of major FBA sellers, including some making over a million sales.
Jungle Scout: Key Features
Let's have a look at some of the key features you get with Jungle Scout.
Product Tracker:
Jungle Scout offers a comprehensive research tool called Product Tracker, that provides you with significant product information. Simply enter the product name into the search field, and you will be presented with all pertinent data, such as the product name, ranking, and price, as well as other statistics relating to sales history and overall profitability.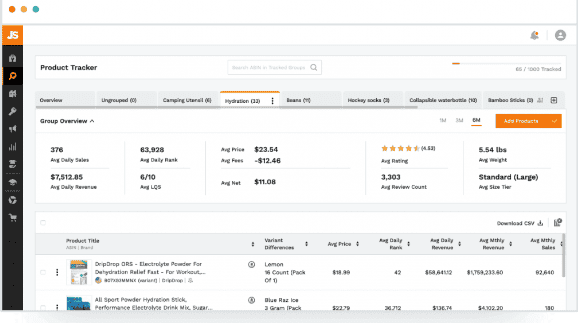 It also helps you determine the ideal products to sell on Amazon based on its extensive product database and analysis. With the aid of simple filters, you can find products from various niches. Moreover, there are other preloaded parameters to assist you in finding the best product ideas for your company. That means you can select items based on rating, projected sales, profit margin, and so on.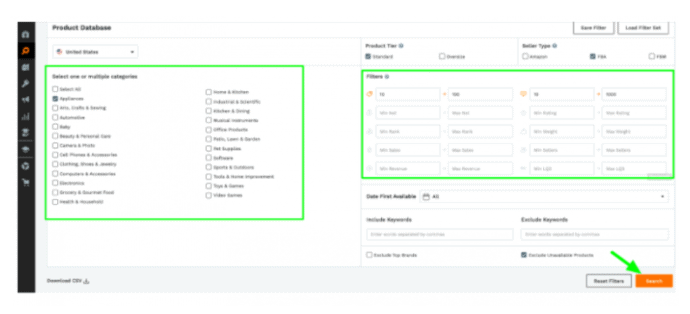 Opportunity Finder:
The opportunity finder, formerly known as Niche hunter, is an excellent tool for locating the most lucrative market for small businesses on Amazon. Relying on the data gathered from keyword analysis, it recommends the most demanding keywords with the least amount of competition.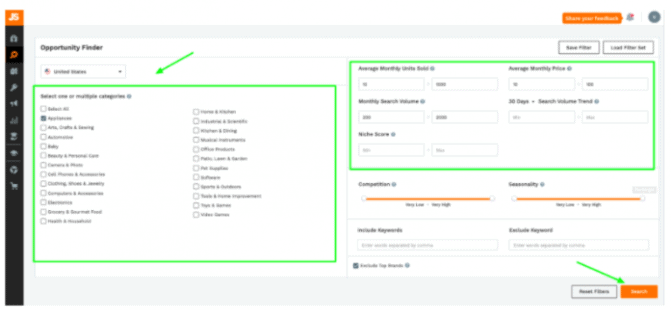 All of this information is compiled into a Niche Score, which estimates the potential success percentage for a specific keyword. Opportunity Finder also assists you with the sales analysis of your competitors. It brings you data on current market trends related to keywords, allowing you to select the most in-demand products in a niche and maximize your success rate.

Sales Analytics:
Sales analytics is another great addition to the Jungle Scout arsenal. As the name implies, it allows you to keep track of your Amazon sales activities in real time. You can also obtain information on a product's sales performance, such as the number of units sold and the profit it generated for you.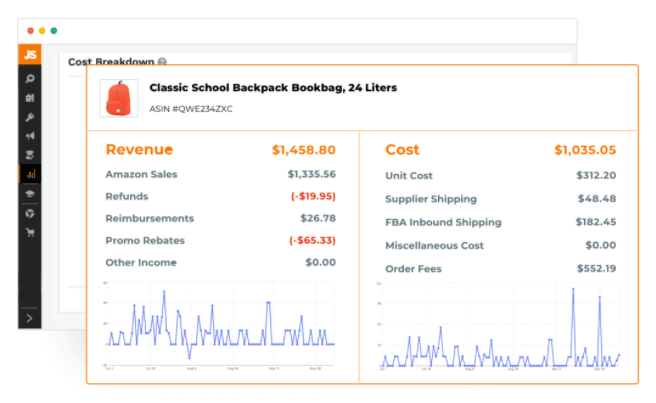 The tool is very simple to use, with a user-friendly interface that provides all information with just a few clicks. You can quickly retrieve the highest-selling time period, overall income, net margin, PPC campaign charges, shipping costs, and so on.
This data allows you to examine your methods, learn about your expenses and income, and make the required modifications to build a better approach in the future.
Inventory Manager:
The inventory manager monitors all of your inventory in real-time, ensuring that you never run out of stock. It tracks sales, the number of units sold, the number of returns, and so on, and estimates how much stock you'll need to carry on your sales. 
Working as a background process, this tool collects all data in real-time to give you the latest figures about your inventory. Also, it updates the statistics after each sale or return, keeping your inventory in check at all times.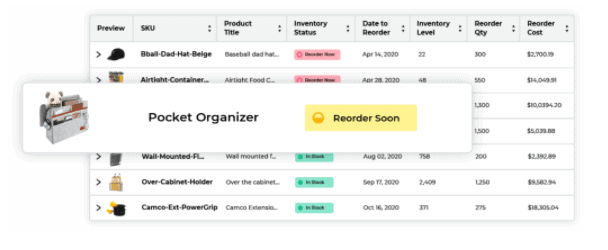 Based on the available stock and sales history, it can also determine the best dates to buy the stock, as well as the expected costs of the supplier order, shipping expenses, and so on. Inventory management assists you in staying well-stocked while ensuring that you do not acquire more goods than you need.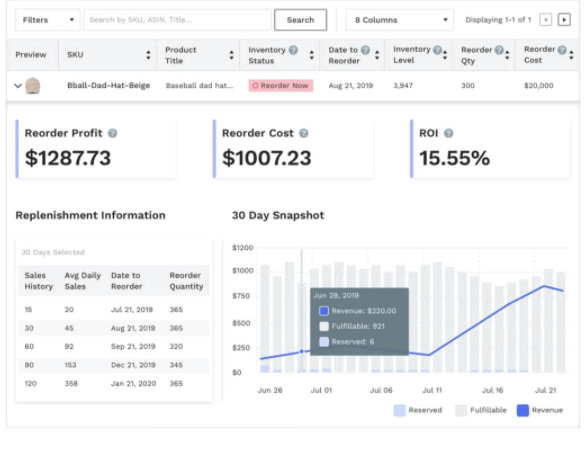 Supplier Database:
The supplier database gives you access to all of the major global suppliers for a specific product. It's a valuable feature that allows you to search Amazon for manufacturers and suppliers for your product.
You can easily navigate through the numerous suppliers offering the product, as well as the other merchants, by just typing the product name or keyword. You can also locate other vendors selling the same product on Amazon and their suppliers as well. 

The latest feature of the Supplier Database is the ability to search for suppliers using ASIN. All you have to do is enter a product's ASIN number into the supplier database, and it will provide you with all of the global manufacturers and suppliers of that product, as well as shipment charges and volume.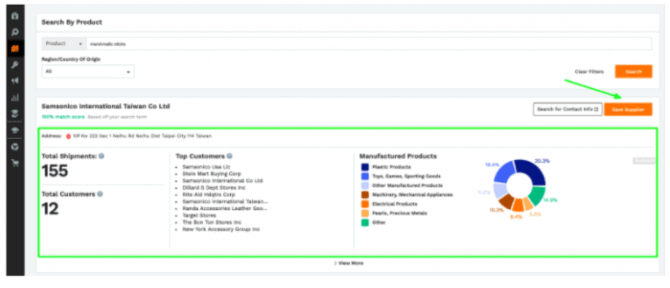 Jungle Scout: Pricing Explained!
If you think that jungle scout is the right tool for you, then check our working Jungle Scout Discount Coupon here to save a few bucks on your purchase.
Currently, there are three tariff plans offered by Jungle Scout. Let's have a look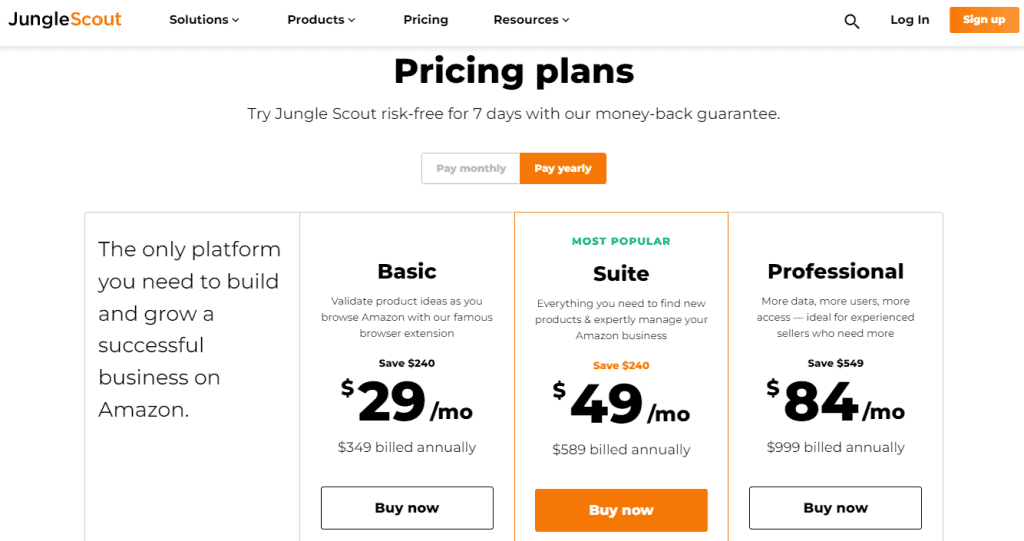 1. Basic Plan
It's a beginner-friendly plan which costs you $29/month ($349/year). The plan comes with a single-user license and access to a complete web browser extension for Firefox and Chrome. The plan also provides you with the historical product and keyword search data for one month period, along with Academy training and customer support. 
2. Suite  Plan
The suite plan costs you $49/month ($589/year). With this plan, you get all the basic features from Basic Plan along with a detailed product and keyword history, 3 months of historical product tracking data, and 1 year of keyword data. You also get access to some enhanced FBA seller features and multi-user support.
3. Professional Plan
Costing you $84/month ($999/year), the professional plan comes with all the features of the basic and Suite plan along with a 6-user license, Upto 1000 product tracking, the ability to locate up to 1000 ASINs, 6 months of historical product data, and Keyword history for up to 2 years. 
Jungle Scout: Pros & Cons
Here are some pros and cons of Jungle Scout:
Pros:
Quick and easy way to find profitable products to sell on Amazon

A comprehensive suite of tools for keyword research, product tracking, and competitor analysis

Automated features make it easier to manage your business

Accurate data and reliable results

Detailed analytics give you a better understanding of the marketplace
Cons: 
Some features require a learning curve to use effectively

Data can sometimes be inaccurate or outdated

Does not provide the same level of customer support as other Amazon seller tools.
Is Jungle Scout the Right Tool for You?
While the tool has its advantages as well as some drawbacks, It's by far the best business solution platform for your Amazon business. Of course, there is a steep learning curve, but don't worry; Jungle Scout provides you with beginner guides and reports related to product research and market strategies.
Jungle Scout makes product research easy for you while doing most of the work for you in the background. Providing you with real-time data, the tool helps you to keep all your online business activities in one place, whether it's stock, sales, or product promotion campaigning. Consider how simple it is to calculate your overall profit from your goods and evaluate the sales information, shipping expenses, and promotion costs, all in just a few clicks.
If you want to expand your FBA foothold, consider Jungle Scout a long-term investment and work your way through it. However, you can choose a free 7-day trial service that offers you access to limited features, enough to get a sense of the tool's general functionality.
Once you're comfortable with the environment, you can upgrade to a premium plan with extra features or a fully flagged version based on your company's needs. There is 24×7 customer support available for your aid, so you may call them if you have a problem with the platform.
Related Read:
Final Verdict: Jungle Scout Review (2023)
There you go. I hope this review guide was able to clear some dust concerning Jungle Scout. In short, if we are talking about all-in-one Amazon FBA tools, Jungle Scout is the closest that comes to perfection. From a robust product tracker tool to complete sales analytics, this platform offers almost everything which you expect from the software of this caliber. 
Now, how you make the best out of it is entirely up to you. As previously stated, if you want to get a sense of how the platform operates, you may sign up for a free 7-day trial and then purchase a plan based on your budget and needs.
There are a few other similar products on the market that provide similar features and functionalities. So, if you're looking for some alternatives, here are our top picks:
Helium 10
Viral Launch
AMZ Scout  
Before purchasing a membership from any of the seller packages, make sure you understand the product you want to promote, your target clients, and your budget. Make an educated choice.
Frequently Asked Questions:
What marketplace does Jungle Scout support?
Jungle Scout is suitable for the marketplace in the United States, United Kingdom, Mexico, Germany, Spain, Canada, Italy, and France. Some features are limited in the U.S. market.
Is there any free trial on Jungle Scout?
As of now, there is no free trial on Jungle Scout, but they offer 7 days of the money-back guarantee. If you think that Jungle Scout isn't right for you, then they will refund your full money within 7 days.
What type of payment does it accept?
Jungle Scout uses safe and secure on-site payment processing. It accepts American Express, Mastercard, and Visa. You can also make payment via PayPal for that, you need to contact its customer support team at support@junglescout.com, and they will send you a PayPal invoice.