Despite being incredibly profitable, operating an Amazon business is not that straightforward. There are many things to evaluate before you start selling something, especially if you are a newbie, and sometimes generating a profit is not possible for a few months.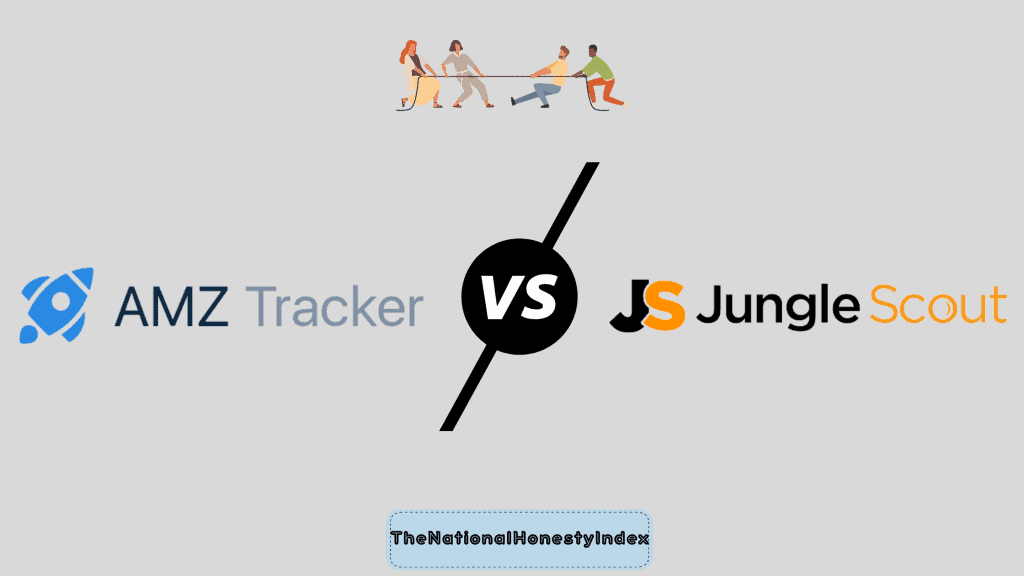 Finding a profitable product, using promising keywords, taking care of your inventory, and keeping an eye on your sales and profit – are some of the things that you need to take care of while running an Amazon Business. Yes, you can do everything manually or hire a professional staff but even then it's tens of hours of work and the risk of making errors is always there. Or you can simply use an Amazon Seller kit just like most Amazon Sellers do – the clever ones.
Jungle Scout and AMZ tracker are two leading brands when it comes to FBA seller suits. They offer a set of tools that helps you in major decision-making regarding your Amazon Business. In this article, I have prepared a detailed comparison based on their features, price, usability, and overall performance. Let's dig deep and try to find out more about each.
AMZ Tracker vs Jungle Scout: At A Glance
Both AMZ Tracker and Jungle Scout are widely popular with promising tools and a good success rate. They have a few similarities and some distinctive features as well, however, both tools share the same principle of your growth on the Amazon marketplace.
Key Differences:
Before we go into details of each, let's take a quick look at some key differences between them:
AMZ Tracker provides a listing review downloader to download the reviews for future references. Jungle Scout does not provide such service.

With Jungle Scout you get access to a global supplier database to purchase the inventory. AMZ Tracker can't provide any information regarding suppliers.

AMZ Tracker offers a mobile application while Jungle Scout only has a Web application and a Chrome browser extension.

AMZ Tracker has a tool to calculate and initiate reimbursements and refunds while Jungle Scout doesn't provide such a feature.

Jungle Scout has a widely popular FBA training program – Jungle Scout Academy. AMZ Tracker has very few resources when it comes to training and study materials.

Jungle Scout does not feature a keyword index checker tool while the AMZ tracker offers an index checker to optimize your product listings.

AMZ Tracker allows sellers to customize external landing pages while Jungle Scout doesn't have such a facility.

AMZ Tracker features a PPC automation tool. There is no PPC automation in Jungle Scout.

With Jungle Scout, you can send promotional emails and advertisements and track their performance. AMZ tracker doesn't include this feature.

Jungle Scout provides product data including promotional offers and discounts. AMZ Tracker product data doesn't include such information.
What Is AMZ Tracker
AMZ Tracker is an out-and-out merchant tool for Amazon sellers that provides numerous data points, sales estimation, strategy tips, and tricks. The platform is designed to increase the seller ranking on Amazon Marketplace and implement strategies to maintain it. At the time of its launch, AMZ Tracker was one of the market leaders in terms of boosting sales and profit.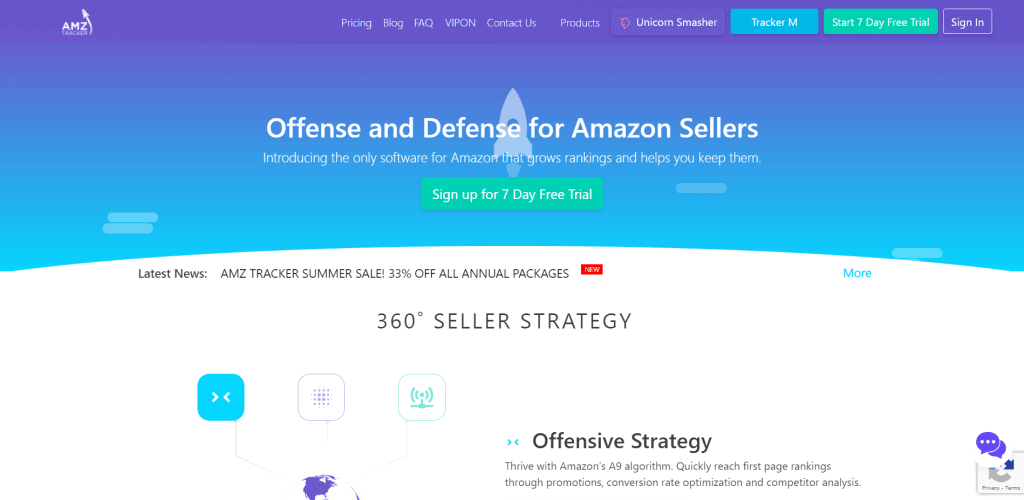 Often compared with Jungle Scout, the platform uses three strategies – An offensive strategy to increase to lure more customers to your page, a Defensive strategy to protect you from spiteful customers and negative reviews, and a Recon strategy to avail you accurate data regarding product performance and competitors' sales.
What Is Jungle Scout
Jungle Scout is an online platform for FBA sellers that offers a variety of tools to manage your Amazon business from the scratch. These tools involve product research, keyword management, sales estimation, and performance tracking. The platform also assists sellers with various business requirements such as product performance tracking, connecting to a global supplier database, and inventory management.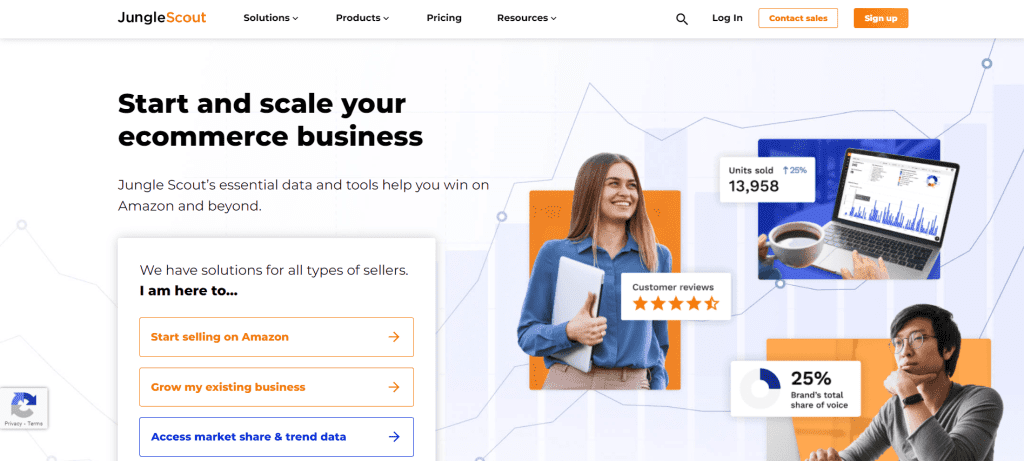 Founded in 2015, the platform is one of the leading players among sellers and has generated over $3 billion in sales for almost half a million entrepreneurs worldwide. Moreover, Jungle Scout offers an academy training program for beginners that features important topics such as how to start an FBA business, launch a product, how to attract buyers, and so on.  The platform is often ranked number 1 in terms of data accuracy and has often helped sellers make more profit in a short period. 
AMZ Tracker vs Jungle Scout: Features 
Jungle Scout offers around 14-15 seller tools while AMZ tracker offers around 10. Let's try to find out what features these tools offer.
AMZ Tracker Features:
Let's go through some of the features of AMZ Tracker:
Competitor Sales Tracking
A sales tracking tool provides you with vital data about a product's monthly sales. The tool analyzes the inventory level of the product and brings you accurate sales figures for any products. This helps you keep an eye on your competitors' sales performance.
Rank Tracking
Rank Tracker allows you to see your product ranking in relation to specific keywords and traffic over a certain period of time. The tool helps you to plan aggressive strategies and use better keywords to promote your product higher in Amazon search results.
Keyword Suggestion
This tool helps you find numerous keywords for the product you are tracking. However, you don't get the search volume data for keywords meaning you can't figure out which keywords are the best-performing ones.
Listing Review Downloader
AMZ Tracker offers a Listing Auditor that helps you download bulk listing reviews which you can use later to improve your listings in comparison to your competitors.
Defensive Strategy
Defensive Strategy includes negative review alerts and Hijack alerts. You get notified whenever there is a negative review on your product and when your competitor tries to go through your listing to search for market data, your products, and so on.
Performance Tracking
You can track the performance of your Amazon Seller Account for a certain duration and analyze your overall profit, growth, and expansion.
Jungle Scout Features:
Here are some key features of the Jungle Scout.
FBA Calculator
FBA calculator is a great way to analyze your expenses, RFBA costs, shipping costs, and a bunch of other charges to find out if the product you are selling is worth it or not.
Opportunity Score
Opportunity score helps you find the most profitable product niches. The analysis is based on Jungle Scout's vast product database of over 15 million products.
Keyword Scout
Keyword Scout is a keyword research tool to find high-converting keywords. For the products. You also get an insight into your competitor's keywords, in order to improve your listings by using the same keywords.
Product Tracker
It's a simple tool to track and analyze your product's performance over time. Jungle Scout is one of the very few seller tools that come with a product tracking facility.
Inventory Manager
Jungle Scout offers a great tool for inventory management. You can easily figure out the stock levels of your items, the appropriate time to order new stock, and the quantity you need. The inventory manager makes sure you never run out of stock.
Sales Analytics
As the name suggests, Sales Analytics allows you to monitor your sales performance. You can also analyze your total income, revenue, and other financial gains. It can also predict your sales based on previous performances.
Supplier Database
One of the best features of Jungle Scout is its Supplier Database. It connects you to global suppliers with all the details about their pricing and shipping charges. It helps you pick the best and cheapest supplier for your inventory
AMZ Tracker vs Jungle Scout: Pricing and Customer Support
Now, the important question is which one is more pocket-friendly and also offers better support for its users. Let us find out
How Much Does AMZ Tracker cost?
AMZ Tracker has 4 plans – Basic, Professional, God Mode, and Legend. All plans include unlimited use of Amazon Super URLs and On-page Analyser. You also get one week of a free trial. Below are the plan details: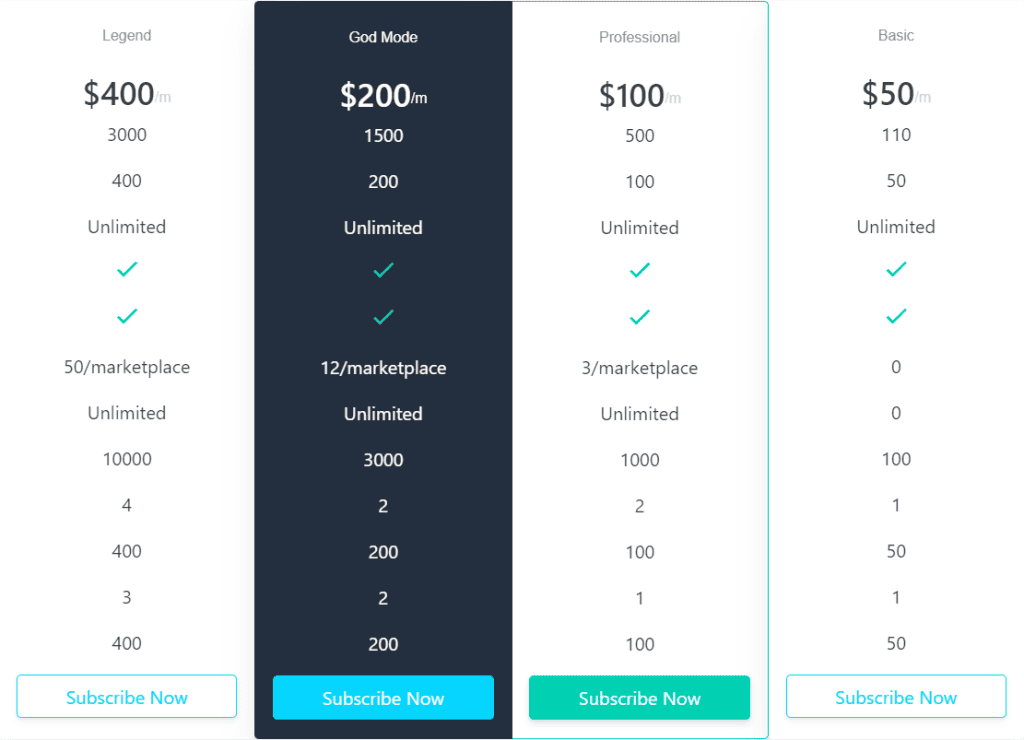 Basic:
The cost of the Basic Plan is $50/month. It offers a single-user license and allows you to track 50 products and 110 keywords. YOu also get 50 sales tracking and 50 negative review alerts with this plan.
Professional:
A Professional Plan will cost you $100/month. You can track 100 products and 500 keywords. You also get unlimited email reports along with 100 sales tracking and Negative review alerts.
God Mode:
The God Mode plan is the most popular one. It costs $200/month and allows you a multi-user (2) license. You can track up to 200 products and 1500 keywords while 200 negative review alerts and sales trackings.
Legend:
Primarily aimed at big enterprises, the Legend plan allows you to track 400 products and up to 3000 keywords a month. It allows you up to 3 users' licenses and 400 sales trackings and the same number of negative review alerts.
Customer Support Service: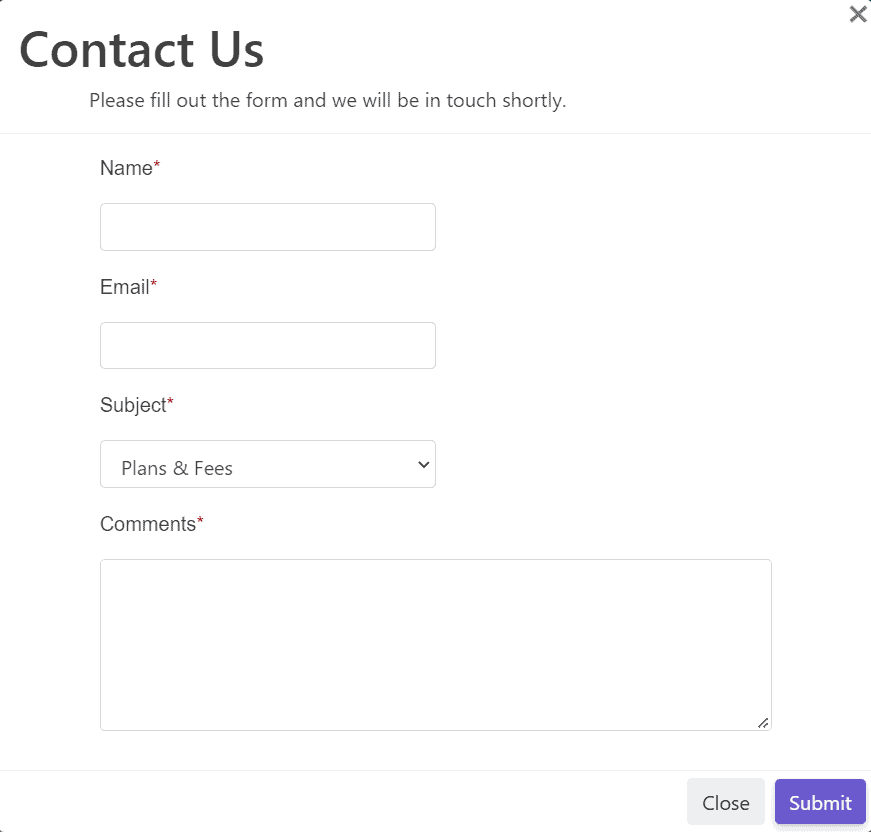 In terms of customer support, the AMZ tracker doesn't have the best record. Users have often complained about response time, the quality of support they get, and sometimes no response at all. The customer support service is accessible only during limited hours a day and they have no 24/7 support like Jungle Scout has. You can contact them via email, phone call, or leave a message on their official website with your details. Overall, AMZ Tracker doesn't impress in the customer care department.
Jungle Scout: Pricing Details
Jungle Scout comes in 3 plans – Basic, Suite, and Professional. All plans come with a money-back guarantee of 7-days. You can also save a few bucks on your purchase with our exclusive Jungle Scout discount codes here. Let's find out their price and benefits: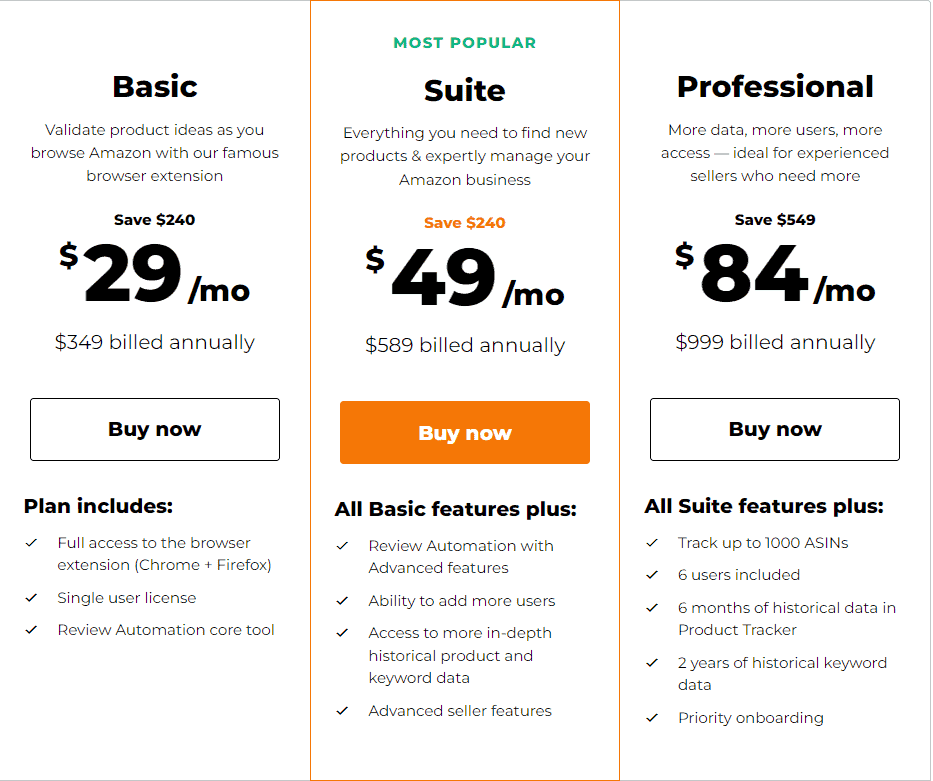 Basic
The cost of the basic plan is $49/month. It's a single-user license that gives you full access to web browser extensions and reviews automation too. You get 20 product trackings, 3 keyword searches/day along with free academy training access.
Suite
The suite plan allows you to add more users to your Jungle Scout seller account and also gives you access to the historical performance of keywords and the products. You also get 150 product trackings and 1000 sales estimates/month along with full access to the academy training program. This plan will cost you $69/month.
Professional
This plan costs $129/month and allows you to add up to 6 users simultaneously. Along with all the features from Basic and Suite plans, you get access to up to 6 months of product historical data and 2 years of keyword data. You can track up to 1000 products and get 1500 sales estimates/month.
Customer Support Service:

When it comes to customer service, Jungle Scout delivers top results. They offer all possible modes of contact including email, phone calls, priority support for professional plan members, or simply writing on their website. The service is accessible 24/7 and the response time is great. The support team is well trained and seems to have deep knowledge about the Jungle Scout toolkit along with the FBA business.
AMZ Tracker vs Jungle Scout: Benefits and Drawbacks
Pros:
| | | |
| --- | --- | --- |
| | AMZ Tracker | Jungle Scout |
| 1. | More features are included in all plans (with a limited number of users allowed) | More affordable plans |
| 2. | Notifies you about negative reviews and competitor visits | Accurate and reliable data |
| 3. | Helpful to choose long keywords using the deep words feature | Easy to connect to manufacturers using the supplier database |
| 4. | Includes a 7-day free trial | One of the best product research tools |
| 5. | Allows you to download listing reviews of your competitors | Provides an FBA training program |
Cons:
| | | |
| --- | --- | --- |
| | AMZ Tracker | Jungle Scout |
| 1. | Poor customer care service, compared to other seller tools | Slightly high-priced compared to other sellers' tools of the same caliber  |
| 2. | Plans are a bit pricey considering the features they offer | The complex interface can be a bit problematic to get hold of |
| 3. | Data accuracy is questionable as there is no information and reviews available | Lacks a review downloader which can be a deal-breaker for many sellers |
Related Read:
Conclusion: Which one is right for you?
That's all in this comparison review. I hope this piece will clear all the confusion you had about AMZ Tracker and Jungle Scout. The review is based on my personal experience as well as on the opinions from over 100 FBA sellers, earning in 6-7 figures.
The question that arises now is – Which one is right for you? To be honest, it all comes down to your personal preference and business requirements. Here is my take on these
If you are a beginner, starting your FBA business, and looking to improve your ranking and overall product visibility in the marketplace, AMZ Tracker is the perfect option for you.

Go with Jungle Scout if you are looking for a complete seller package that offers a vast product database and provides you with access to a global supplier database. Also, you can take advantage of Jungle Scout Academy FBA training which comes free with every plan.
As we can see clearly, Jungle Scout comes out on top in this comparison on many fronts. A better price, huge product database, variety of tools, and a complete FBA seller kit – What more could you ask for?
Frequently Asked Question:
What is the main difference between Jungle Scout and AMZ Tracker?
AMZ Tracker is primarily aimed at increasing your product's rank on Amazon while Jungle Scout is a complete seller tool that focuses on product search, keyword search, inventory management, and other promotional activities. 
Does AMZ Tracker have a product Research Tool?
Yes, the AMZ tracker provides a product discovery tool to find top-selling products on Amazon. 
Which one is cheaper? AMZ Tracker or Jungle Scout?
They both offer similar basic plans. However, Jungle Scout is a much better deal if you buy a yearly subscription. Also, considering the tools and features, Jungle Scout is clearly a better choice. Moreover, Jungle Scout offers a 14-day money-back guarantee while AMZ tracker offers a 7-days free trial.
What are the best alternative FBA seller tools?
If you are looking for an alternate option, I suggest you go with Helium 10.  The basic plan starts at just $39/month ($29 if you pay yearly)